When getting to know someone new, it's inevitable that one of you will eventually ask, "What kind of music do you like?" The question is never whether or not the other person likes music, but specifically which kind it is that they prefer. I don't think I've ever encountered someone who wasn't taken by some specific tempo or tune because there are just so many genres that reach out to every type of person who inhabits this vast earth. Music is a magnetic force that can help a person to heal, to grow, and to feel more inspired or less alone. Which kinds speak to you?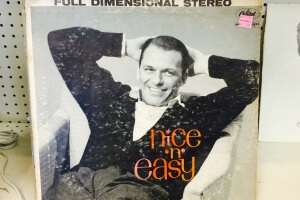 Image via goodwillde.org
Ted over at Goodwill Delaware and Delaware County (Wilmington) recently shared a story of his lifelong love of music. As a child of the '60s, he blasted The Doors and scoffed at his father's fondness for Frank Sinatra. Now that he's in his 60s, though, nostalgia overwhelms him every time he spots Old Blue Eyes staring up from the cover of an album. Music, like places and smells, can be a time machine catching the unaware off guard and transporting them back to a different part of their life. At least, I've found this to be the case for me and I love that I can navigate through different decades simply by browsing around at my favorite thrift stores.

Image via Instagram.com/goodwillvsb
Since I wasn't bestowed the gift of music myself, listening to my favorites is the best way for me to really appreciate it. But for anyone who, unlike me, feels the pull toward song creation, an excellent starting place would be to find a bargain instrument second-hand. Have you ever noticed how incredibly expensive quality instruments can be? Before you commit several paychecks to just one piece of equipment, you might want to practice a little and make sure it's really the right one for you. After playing around a bit, you may find, for example, that while you love working with strings, a cello is just too big. Goodwill frequently has instruments for sale like the violin (pictured above) that I found on Goodwill Industries of Ventura and Santa Barbara Counties, Inc. (Oxnard)'s Instagram. These can help you get a little practice and before you commit to the instrument of your dreams.

Image via in-lala-land.com
As it does in our lives, music seeps into every part of a Goodwill store; the electronics, the home goods, even the clothing section! Nothing says, "I'm ready for the weekend!" like a comfy, perfectly broken-in band tee. When you snag one for just a few bucks, you don't even have to feel guilty about altering it to suit your tastes. There are tons of ideas for DIY tee shirt fixes that would help you support your favorite band without feeling captive in a too big or too boxy tee. Scarf, bag, quilt; the possibilities are endless!
Just as hearing the right song at the right time can sometimes seem to completely change life for the better, so can Goodwill. Because of their mission, by shopping at and donating to Goodwill, you help provide job training and placement opportunities for individuals in your community. This ushers in a new, more exciting era of life for those who face barriers in finding work, so something as simple as poking around Goodwill looking for an iPod rather than buying one new can have a major impact on the life of your neighbor (plus, you get to save money). Now that is music to my ears!