I recently shared my adventure shopping at Goodwill for my favorite spring 2018 style trend; ice cream hues! It was so fun to really dive into finding, mixing, and matching dusty pastel tones, but I wanted to come back again to cover some of the other trends that you'll be seeing around in the next few months. You know, just in case pale colors aren't for you. The wonderful thing about all of this season's trends is that they each throw-back to other decades which makes it easy for you to shop for them second-hand! Here's what you can look forward to seeing on the style savvy this spring…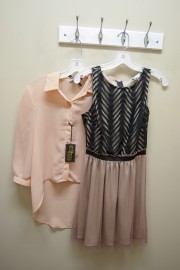 Sheer Fabrics: Whether you like soft, floating blouses or fit-and-flare dresses, there are sheer fabrics out there waiting for you on Goodwill racks! This trend can quickly morph from work-day wear to a night on the town and, since it's light and breathable, it will transition well to summer, too. I love the hi-low shape of the top in the picture above as well as its pretty peachy color. In fact, I love it so much that I may have to go back to my local Goodwill to see if it's still there…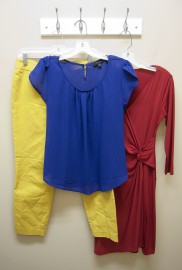 Primary Color-blocking: To make the most of this current trend, search for color-saturated pieces to put together. Each of the three items in the photo above caught my eye not only for their vibrant hue, but also for their personality. The blue top is a two-for-one trend, checking both the "sheer" and "primary" boxes on our list. The dress's combination of comfortable fabric and flattering fit will perfectly compliment curves making it an ideal dress for date night. As for the capris, it's hard to tell here, but they have the sweetest little pin dots. So sunny and bright for spring!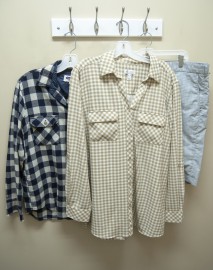 Heritage Checks: For anyone who prefers to play it safe, heritage checks might be the best spring 2018 trend for you. Since they've been around for so long, there's a lot of variation on how you can enjoy the look. Here I've got a sturdy wool men's shirt, a neutral women's shirt dress (it would look so cute belted!), and brunch-ready chino shorts. Perfect for picnicking and completely classic, heritage checks are everywhere at Goodwill.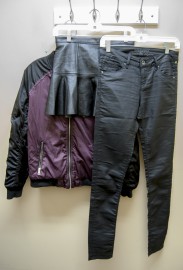 Parka Perfection: It may seem odd at first that raincoats, rubber, and plastic materials made an appearance on the runway several times with Spring 2018 in mind, but it actually makes a lot of sense. Why shouldn't the same clothes that keep us dry also feel stylish? Look for water-wicking wears reminiscent of raincoats or plastic the next time you're shopping to tap into this practical trend.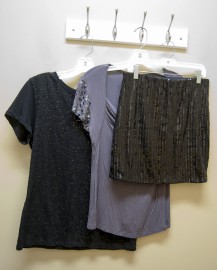 Sparkling Sequins: Gucci, Chanel, Dior, and Marc Jacobs have all included dazzling sequin designs in their lines for spring 2018 and it's easy to see why! Nothing catches the eye of passersby as well as a frock that shimmers while you walk. But you certainly don't have to pay designer prices to enjoy this trend. Here are three pieces I spotted quickly on my way through Goodwill last week and this is just as start!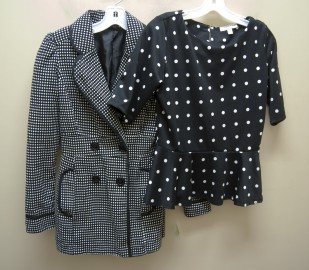 Black and White Polka Dots: With such high-contrast, it's not surprising that black and white polka dots are a trend once again. This time around, it doesn't matter if you're sporting simple little spots or huge mod-style dots. It only matters that they're monochromatic. My first find in this category was a classy, tailored coat which would be great for any upcoming cool, rainy days. Not long after that I spotted this adorable peplum top! I love the flattering sleeve-length and I'm also a sucker for zippers that run down the back—so stylish!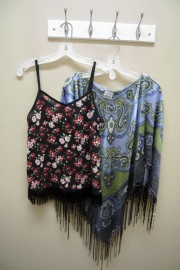 Flapper-Style Fringe: The two fringey tops I found on my last trip have a definite festival feel that will certainly get good use in the coming months. The colors and patterns seem right for this season, too. But I've also seen more dressed-up fringe lately in the form of gowns and even earrings! Keep these in mind when you're dressing as a wedding guest so you can bring a celebratory attitude to the ceremony and really make waves on the dance floor!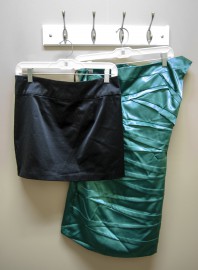 Sleek Satin: Our final trend today is the ever-glamorous satin. Clothing made from satin is instantly elegant and always demands attention, making them another stylish choice for wedding guest attire. Try it ruched to really show off its sheen or just on one shoulder (like the emerald bodycon dress pictured here) for an extra touch of sass.
Does all of this seem like it will be a little pricey? Here's how to save on your new spring wardrobe: Go through your closet to take inventory of what you already have that works for the season. While you're there, pull out items you no longer use and put them in a "donate" pile so you can declutter your house and make a difference in your community. Visit goodwill.org and use the locator tool to find your nearest Goodwill donation sites then, while you're there, shop for these spring fashions to update your wardrobe for warmer weather.
Shopping second-hand is a sustainable way to stay stylish and with Earth Day right around the corner, we should all be thinking of ways we can lower our environmental footprint. This is just one simple step that will keep your clothing current while making only a positive impact on the world around you. Happy spring!