Does it seem like the same rooms always get the attention during spring cleaning? The kitchen, of course, bedrooms (especially their closets), etc. Well today we're going to tackle some spaces that might get passed over year-to-year. During this annual ritual of purging the unnecessary, one of the most common dilemmas for spring cleaners is what to do with all that stuff. As the green movement grows, consumers are increasingly concerned about reusing and recycling. By donating to your locaGoodwill, individuals can help neighbors who are unemployed or underemployed get off to a fresh start while, at the same time, allowing neighbors to reuse the items they no longer need. Maybe that old bookcase you're ready to part with is exactly what another Goodwill shopper is looking for to sort her stuff after spring cleaning! Today we'll check into a few fresh-for-spring takes on neglected spaces.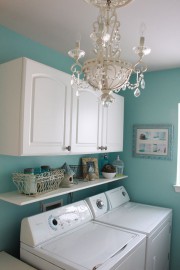 Image via camerasandchaos.blogspot.com
Is your laundry room A) a catch-all for grimy clothes and shabby cleaning supplies B) a dark corner you would prefer not to think about or C) a bright and inspiring space that you actually enjoy. Not many people like doing laundry, but maybe more would if they could do it in a room as beautiful as this one shared on the Spring Fever Home Projects pinboard curated by Ohio Valley Goodwill Industries (Cincinnati). I mean, why shouldn't your laundry room be lit up by a chandelier when you can find one for a reasonable price at Goodwill? Adding beautiful touches like this to a dreary space can really lighten the mood. But first, make sure you clear out anything unnecessary and tuck away the ugly stuff you still need. In the picture above, the combination of a reachable shelf with styled laundry supplies and clean white cabinets to hide everything else is just perfect. And, this is completely feasible even for the smallest spaces!


Image via lovelyindeed.com
Now, no one skips the bathroom when spring cleaning, but it seems like the focus in this room really is on cleanliness (i.e. sanitation) and less on organization. Since bathrooms don't get as cluttered as other rooms, organizing them often means just throwing dirty laundry in the hamper. It's time to muster the energy for the dark world of under-the-sink/cabinet organization! Even annoying little clutterbugs like bobby-pins can find convenient storage as demonstrated in this pin shared by MERS Missouri Goodwill Industries (St. Louis). At Goodwill, you'll find a huge selection of glass containers, too, like the one used here for stashing cotton balls. The same goes for trays! You could even DIY your own faux-marble tray by adding contact paper or paint to an outdated thrifted tray. There are so many quick and simple solutions for wrangling all of the little odds and ends that find their way into bathroom cabinets. Check out the pinboard for a few more accessory storage ideas that might help you in the loo!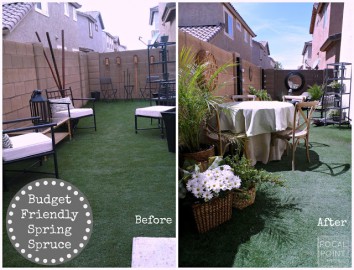 Image via nyclq-focalpoint.blogspot.com
Ready to think outside the house—I mean, box? Here's an exterior spring spruce-up! We tend to think of spring cleaning as what happens inside the house, thus the outdoors can go untended until summer approaches. But in this blog post by Lynda of Focal Point Styling, a little raking and reimagining goes a long way. First, she cleaned out dead leaves and a few other items, like tiki torches, she no longer uses (donate!). Then she revamped some things she already had! The white cushioned chairs, for example, got a bright new coat of weather-ready paint. Finally, she brought in additional seating and surfaces like the wooden X-back chairs and a rolling cart, both of which she found at Goodwill, for a more inviting mood. The distinct conversation areas she has created here make better use of the yard than the wide-open space she had before. This is the perfect place to kick back and enjoy the warmer weather once your spring cleaning is all done. Click through to her post for more details!
With a newly cleaned and organized home, your spring will be off to the right start. And, hopefully some of these tips have helped you find long-term solutions for the clutter that builds up throughout the year!