Your home is a reflection of yourself. What does your decor-style say about you? I'd like to think mine is a carefully curated collection of crafts and curios. But, if we're being completely honest here, it's probably a little closer to "nostalgic chaos." Look around you—what does your home say? Is it cluttered, juvenile, or bland? If so, how can you fix its faults? One easy way is to create a distinct and stylish focal point. For simplicity's sake, let's talk about statement seating because bringing in one bold chair and working the rest of your design around that can solve a number of problems. So, let's see what other thrifty bloggers have been doing to create eye-catching corners of their homes!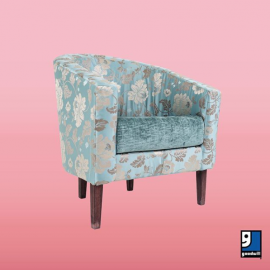 Image via instagram.com/goodwillsfl
First up, the safe colors and sophisticated shape of this classy seat, shared on Instagram by Goodwill Industries of South Florida, Inc. (Miami), make it an easy addition to an already-adorned room. Amazing textures in this fabric prove that decor doesn't have to be outrageous to be eye-catching. Just placing a piece like this one in a central location within your living room could pull focus from less-desirable areas. Make it match its surroundings by tossing throw pillows in these same hues (which would be super easy to find!) on the couch or throughout the room in other decor. Weed out any items that seem to clash with the seating to create cohesion then the focus that puts on the chair should make your home feel more inviting and refined.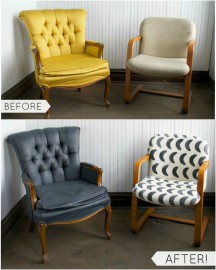 Image via gianigranite.com
For those with an eclectic personality, you can take a few more chances where decor is concerned. Try mixing and matching furniture from different eras or (here's a great fix for when furniture with good bones is in bad shape) painting upholstered furniture—GASP! In this DIY post by a Giani Granite blogger, you can see how a Goodwill chair is completely transformed by a fresh coat of paint. As well as hiding imperfections, the treatment also adds a layer of protection and makes it easy to wipe clean. But the makers didn't stop there! They took things a step further by adding a moon stencil to a second chair to contrast the first. I love each chair on its own and when they're together as a set. I also admire this creative way to repurpose necessities instead of buying something new. It's really true that your donation to Goodwill makes a positive impact in your community and on the environment.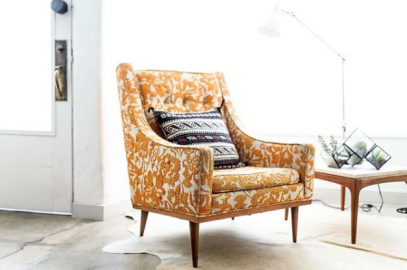 Image via instagram.com/goodwillar
The final chair on my list definitely has some retro flair. It would also fit well into an eclectic setting, but, with a pattern, color, and texture like this, you have to be really careful about what goes around it. If you don't want your room to feel overwhelmed, it's important to keep the rest of the room toned down. This styling, posted on Instagram by Goodwill Industries of Arkansas, Inc. (Little Rock) is impeccably arranged with its mid-century lines and neutral tones. But picture this room without the chair…boring, right? As you can see, the chair is the perfect way to add a pop to a plain room. Simple as that!
If you can intentionally decorate your surroundings to inspire your favorite parts of yourself, you may notice a new spring in your step. There is so much to be said for a home that "feels like you" and the great news, as you've seen here, is that it doesn't have to take a long time or cost a lot of money to do. Just head out to your local Goodwill to see what statement seating you can find!