When you get dressed in the morning, do you frequently mix and match your clothes or do you usually stick with standard combinations that you know work? For me, I tend to pair the same tops and bottoms over and over again. Occasionally I'll swap things around, but because mornings are always rushed I don't often try new clothing arrangements. However, I just read about texture mixing and now I'm thinking about my closet in a whole new way. It's like pattern mixing, but with texture instead! Let's dive a little deeper…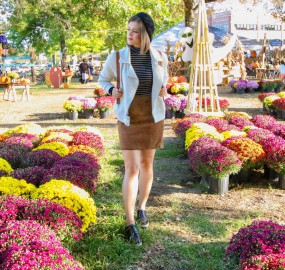 Image via goldwilldigger.com
I discovered texture mixing from Betsy, the blogger behind Goldwill Digger. She points out that when a person layers different fabric textures instead of patterns they can enjoy all the benefits of pattern mixing (variety, visual depth, etc.) without feeling intimidated about pairing complimentary prints. Another unexpected perk of playing with and learning about texture is that it will save you time while you shop, too! As Betsy notes, once you're familiar with how each type of fabric wears, you'll be able to run your hand through a rack and quickly locate your next piece of Goodwill gold by zeroing in on the pieces that will work best for you. Go ahead and choose those colors that you always feel comfortable in then use the nature of the material to add surprising dimension!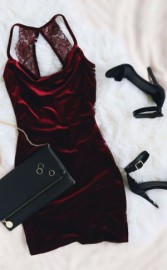 Image via lulus.com
One of the first fabrics that comes to my mind when I consider texture is velvet. This smooth, soft cloth just begs to be touched and, lucky for us, it's also a trend that has carried over from last year according to Goodwill Industries of Southeastern Wisconsin's fashion forecast post. There they highlight the hottest styles for this season so you can narrow down your shopping search. Keep the designated themes in mind while you scout for the right fabrics and you'll be killing two birds with one stone! You may even track down the perfect look for Thanksgiving dinner or a holiday party—perhaps a velvet top with a lacy skirt and leather jacket?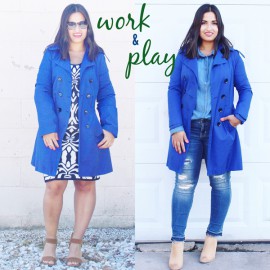 Image via goodwillakron.org
Goodwill Industries of Akron, Inc. shows off this gorgeous cobalt trench's versatility by styling it for both work and play. Although the canvas-like fabric used for trench coats may not be at the top of your texture list, this style staple can ground and add discipline a super expressive outfit. The point of texture mixing is to shake things up so use a wide variety of pieces, rough or ruffled, silky or sleek. That includes a crisp trench coat! With winter months well on their way, it makes sense to keep an eye out for one of these while you're thrifting. Since they never go out of style (seriously, they've been "in" since just after World War II), you'll have a huge selection to choose from at thrift stores and we can guarantee you'll have years of use ahead! Read more about how to find the right trench coat to fit your body as well as styling tips over on their blog!
At a time when government is challenged to find enough money to meet community needs, local Goodwill organizations apply business principles to building stronger communities while bringing you an endless variety of thrifted goods. That means that even within the category of "clothing" there is no limit to the colors, styles, and of course, textures you can experiment with. Have fun trying new combinations!