Tis the season of tax preparation! According to a recent survey by TaxSlayer, more than half of U.S. adults find the tax-filing process stressful. Luckily, local Goodwill organizations are willing to take this burden off your shoulders, at no cost! More than 20 local Goodwill organizations across the nation offer free tax preparation services.
Goodwill organizations are autonomous and cater to the specific needs of their community's environment and demographics, so individual programs and partnerships vary. Collectively, Goodwill organizations have provided tax preparation services to more than 10,000 adults, returning more than $7.2 million in refunds to local tax payers since 2009.
Goodwill Industries of Southwest Florida, Inc. (Fort Myers) has one employee, Giancarlos Castano, trained as a Volunteer Income Tax Assistance (VITA) preparer. In partnership with United Way Lee County, Castano meets residents where they are to provide services. He uses Goodwill's Mobile Job-Link unit to travel to individuals in rural areas who do not have transportation to the Goodwill. His hard work and commitment to the community received recognition from President George W. Bush, who named him a Daily Point of Light Honoree.
"I think it is important to give back in any way you can," Castano shares. "It is important to do something meaningful for the community. I have been in need and others helped me, so the best thing I can do now is help others."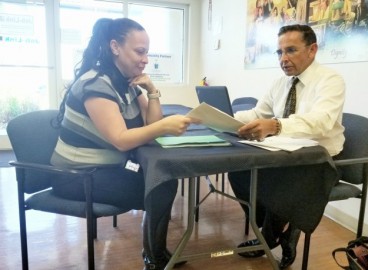 Goodwill Easterseals of the Gulf Coast (Mobile, AL) has been providing free income tax preparation services for 11 years. Many tax payers who participate in the program call it a godsend.
One woman shared that her husband, now deceased, handled their taxes and, without Goodwill, she would not have known how to complete them. "I'm so glad I found you all," she said. "I recently moved to the area and did not know where to turn for assistance. This program has been such a blessing, and I want to do what I can to help it continue by spreading the word and donating to your store."
You might be entitled to this money even if you didn't qualify for a tax return. The Earned Income Tax Credit (EITC) is a benefit for working people with low to moderate income. To qualify, you must meet certain requirements and file a tax return, even if you do not owe any tax or are not required to file.
More information about local Goodwill organizations hosting tax preparation programs is listed below.
Goodwill Industries of Central Michigan's Heartland, Inc. (Battle Creek, MI)
Goodwill Industries of West Michigan (Muskegon, MI)
Goodwill of South Central Wisconsin, Inc. (Madison, WI)
Goodwill Industries of North Central Wisconsin (Menasha, WI)
Goodwill Industries of Southwest Florida, Inc. (Fort Myers)
Goodwill Central Coast (Salina, CA)
Goodwill Industries of Michana (South Bend, IN)
Goodwill Easterseals of the Gulf Coast (Mobile, AL)
Goodwill Hawaii (Honolulu, HI)
Goodwill Industries of Kentucky (Somerset, KY)
Goodwill Industries of Kansas (Wichita, KS)
Goodwill of Western New York (Buffalo, NY)
Palmetto Goodwill (Charleston, SC)
Goodwill Industries of Northwest North Carolina, Inc. (Marshall, NC)
Rappahannock Goodwill Industries (Fredericksburg, VA)
Goodwill of Southwestern Pennsylvania (Pittsburgh, PA)
Goodwill Industries of Southwest Oklahoma & North Texas (Lawton, OK)
Goodwill Industries of Tulsa (Tulsa, OK)
To learn more about tax preparation services in your area, contact your local Goodwill organization using the store locator at /locator/.