For the past 20 years the Pantone Color Institute announces the color that will represent the upcoming year – a color that is selected on the basis of cultural factors, global issues, design trends, the political climate and so much more. The color of the year for 2019 – called Living Coral – is all about preserving and celebrating our ever-changing environment. The color, which is a pigmented peachy mix between pink and orange sherbert, was announced next to a graphic of a coral-colored fish swimming through a coral reef. Bringing attention to the way our lives impact the environment, we're going to see a quick influx of this color in fast and luxury fashion in the New Year.
Living Coral is bright and lively, reminding us to take a look at the beautiful world around us and to make choices that help to keep it that way. Thrift shopping is an incredibly sustainable practice, where instead of tossing out unwanted clothes, people donate them for others to purchase and wear second-hand. I love shopping at my local Goodwill® store because of all the treasures that I find there and it helps to know that not only am I having fun finding affordable and unique statement pieces, at the same time my decision to shop second-hand is environmentally friendly and helps people in my community. At a time when the government is challenged to find enough funding to meet community needs, Goodwill organizations apply business principles to build stronger communities and individuals.
Featuring coral in your wardrobe this winter and spring doesn't have to be difficult, or expensive. Though coral has been named the color of the upcoming year, it isn't a brand new color. This means that it shouldn't be hard to find in your local Goodwill store. Not sure how you can fit it into your outfit rotation? I've got you covered with some outfit inspiration below.
1.Brighten Up Your Neutrals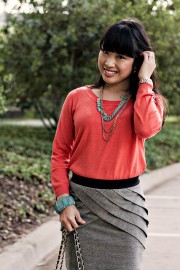 Photo: cuteandlittle.com
Give new life to your neutral workwear – greys, blacks, whites… we all like to have go-to items in traditional colors that can be quickly pulled together into an outfit first thing in the morning before work when we're still half asleep. But color has the ability to change your mood and even your demeanor, and brighter colors truly can give you a bit more life, energy and confidence as you go about your day. Think about swapping out a neutral colored sweater with a coral one like the above, pairing it with some fun jewelry and a neutral skirt or pant.
2. Winter Textures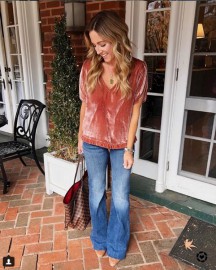 Photo: @twopeasinablog
If you're thinking that coral is more of a warm weather color, you're not wrong. But that doesn't mean that it can't be worn during the winter months. You can layer a coral-colored blouse with a navy blazer or vice versa, or you can play around with textures that are better suited for the season. This velvet coral top is the perfect example of this – it's extremely on trend because of the color and fits in with the season thanks to the texture. You can dress a top like this up or down with accessories, shoes and the bottoms that you pair it with, so it can be adaptable for any occasion.
3. Add Some Pep To Your Pants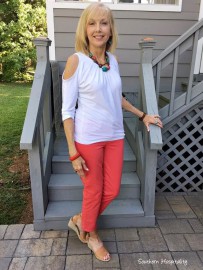 Photo: SouthernHospitalityBlog.com
As we get into the warmer months later this year, adding a pop of color to your pants is a great way to include coral in your outfit of the day. I love the way this blogger styled her spring outfit, tying all of the colors together with a fun necklace. I also love that in her blog post she mentioned that she found those coral Calvin Klein pants at her local Goodwill for just $5!