You've probably heard that accessories are the quickest way to update any look. And if you haven't heard that before, I'm sharing it with you now. We're a month into the new year and you may be evaluating your current wardrobe and thinking how you can inject new life into your closet. You could go shopping for some new threads. That's absolutely an option. Or maybe, just maybe, turn your eye from your closet and look at your accessories.
Accessories tend to be an afterthought because they're usually the last items added to your outfit. Though they're the finishing pieces, they can absolutely take center stage and make or break any look. That's why if you're in need of a wardrobe refresh but don't want to spend a lot of time or cash, accessories are the way to go. They make a major impact and don't have to set you back a ton of money. Next time you're at your local Goodwill®, check out the accessories rack and jewelry counter for these three pieces below that can add some much needed flair to your 2019 look.
1. Belts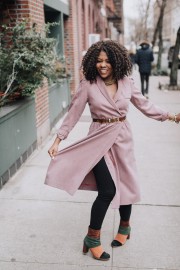 Photo: @PatriceJWill
A belt has to be the most underutilized accessory in history. Okay, maybe I'm exaggerating but you get what I mean. Belts aren't solely meant to hold your pants up, they do so much more. Add one over a long cardigan to cinch your waist or use a thin belt to break up a monochromatic dress. Because they come in so many different sizes (from super wide to pencil thin), colors and textures, play around with the ones that suit you best. And don't be afraid to try something new. If you normally wear neutrals, a bright belt can inject just the right amount of color and a studded leather one can add a bit of edge to a normally preppy look.
2.Brooches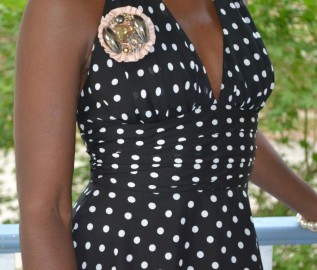 Photo: LookingFlyonaDime.com
So I know I just said a belt has to be the most overlooked accessory, but coming in a close second is a brooch. Jewelry like earrings, statement necklaces, and bangles tend to get all the love, but brooches are just as fly. And there's no better place than Goodwill to check them out. I'm pretty sure your jewelry counter has a ton for sale and they're super affordable. My preferred method of styling brooches is adding one to a classic blazer or going all out and clustering a few together and adding to the collar of a denim jacket. One of my top thrift store scores ever is a Miu Miu leather brooch I found at a Goodwill in New York City a few years ago. I've added it to tons of jackets for a nice fashionable, finishing touch or even on a retro style dress.
3.Silk scarves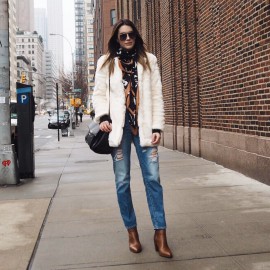 Photo: ThriftsandThreads.com
And finally, a silky scarf is another must have to update your current wardrobe. While the winter months call for chunkier knits, don't overlook the silky scarves that may be in the aisles or bins at Goodwill. These scarves can be styled a ton of different ways. Naturally you can wear it draped around your neck or even tied as a kerchief. But you can also add this accessory onto another accessory: your purse! Tying a scarf around the handle of your favorite handbag adds a colorful and whimsical style. Just like a belt, scarves come in such variety, so play around with the one that's right for you. And because you can find them so affordably, why not buy a few?