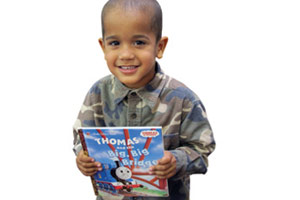 On March 2, Americans gear up to celebrate the birthday of beloved children's author Dr. Seuss and the National Education Association's Read Across America Day. This day encourages communities to celebrate one of my favorite things: reading.
Being unable to read makes many aspects of life difficult, from ordering on a menu to completing applications for jobs.  Many Goodwill® agencies provide resources to help individuals increase their reading proficiency, but one Goodwill is going a step further to help its community become stronger readers.
Creating a New Generation of Bookworms
As a provider of welfare transition services in West Central Florida, Goodwill Industries-Suncoast has seen the effects of illiteracy on adults.  Their response to this issue is a program called BookWorks. Goodwill's BookWorks program brings together volunteer readers and children from low-income households to promote childhood literacy. BookWorks is designed to instill a love of books and reading, and to encourage self-sufficiency. The ultimate goal of BookWorks is to break the cycle of illiteracy and help children succeed in tomorrow's workforce.
Volunteers like Kitty Cappelli read to preschool children at Head Start centers and other locations, and then present each child with a book of his or her own to take home. This program reaches children in six counties in West Central Florida:  Pinellas, Hillsborough, Pasco, Hernando, Polk and Marion. Last year, the program gave more than 29,000 books to preschool children who may not otherwise have had them.
Take Action
Whether through donating books or donating your time, you can help someone build their literacy skills and be successful in life.  Want to support the BookWorks program?  Goodwill's BookWorks is holding a drive to collect children's books through March 15. If you are interested in participating, contact Goodwill-Suncoast. Want to support a literacy program in your community?