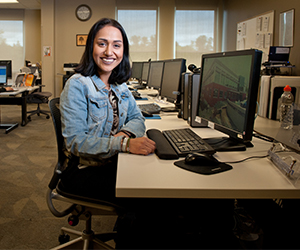 Virtual volunteering is a great way to build your skills and strengthen your résumé. Virtual volunteers lend their time and talents from the comfort of  home and on their own schedule. All you need is a computer with an Internet connection — either at home or at your local library.
Professional Benefits of Virtual Volunteering
By finding a virtual service project that complements your interests and skills, you can take control of your professional development. Additionally, these projects help build your skills, résumé and professional networks.
As a virtual volunteer, you'll also be showing potential employers that:
You're self-motivated.
You have good time management skills, since you set your own schedule.
You can commit to and finish a project.
You're comfortable communicating in written form since email is the primary form of interaction.
Virtual volunteering opportunities aren't just for the computer-savvy. Organizations are in need of all kinds of help. You could look up news articles about a certain topic, you could write thank you letters to donors, or you could create logos for marketing materials. If you have the expertise, you could help design and maintain a web site, write grant proposals, or program web applications or  software. If you'd rather do work that doesn't require a computer, consider something simple, such knitting hats and scarfs for a cause or making phone calls.
Find Online Volunteering Opportunities
If you're ready to give virtual volunteering a try, you can locate opportunities on VolunteerMatch, Serve.gov or AllForGood. Short on time but still want to make a big impact? Try microvolunteering, which engages a group of online volunteers to complete a project. By volunteering your expertise to accomplish bite-sized pieces of a larger endeavor, you'll help make a difference to nonprofits in need.
Interested in virtually volunteering with Goodwill? Use our locator to find the headquarters nearest you and contact them to see how you might lend a hand from the comfort of your own home.