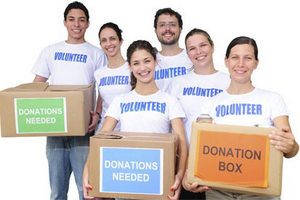 April is National Volunteer Month, when we celebrate the work that volunteers do year-round. During National Volunteer Week (April 10-16), organizations across the country will recognize their volunteers for helping them achieve their mission.
As Goodwill Industries International's national volunteer specialist, I often hear stories about the dedicated volunteers giving their time at Goodwills in the U.S. and Canada.  However, one program has allowed one financial institution's employees to turn their skills into a life changing volunteer opportunity.
Teach a Man to Bank
With the generous support of  the Charles Schwab Foundation, Goodwill Industries® of Central Indiana is completing its first year of a financial education program called Good Assets. Good Assets offers Goodwill® employees financial education classroom instruction, as well as financial coaching.  The amazing part of this program is that it is powered by volunteers who conduct the classroom instruction and provide one-on-one coaching with individuals.  Charles Schwab has deepened its commitment by providing many volunteers to help serve as instructors and coaches.
Good Assets has several volunteer and participant financial coaching relationships that are producing changes in behaviors. One Schwab volunteer and participant duo is currently attending the Dave Ramsey Financial Peace University together weekly, as well as meeting to work on other financial goals.
The participant commented that she could not have been matched with a better volunteer.  She enjoyed that they had similar interests and were able to relate to one another. The participant had been so inspired by her experience with Good Assets that she wanted to help others achieve financial stability by volunteering.  She is now trained to be classroom instructor and will be helping her coworkers join her on the path to success.
A Time for Thanks
In honor of National Volunteer Month, I would like to thank the Indianapolis Charles Schwab volunteers and all of the Goodwill volunteers that create change in your community.  Goodwill  programs could not provide many of our services without your help.
Locate a volunteer opportunity nearest you using our volunteer search tool.