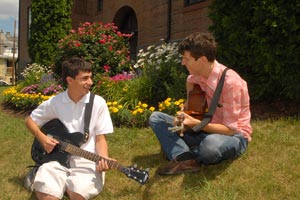 When I was in middle school, a local elementary school was looking for volunteers to assist students in its after-school program.  Most of the volunteers were adults; however, because I knew the counselor running the program, I was given the opportunity to help.
Thus began my first mentoring role — tutoring one of the students and engaging him in activities. I remember feeling proud when he passed a test we'd studied for together,  or when I was able to teach him a new way of solving a math problem. The experience taught me the rewards of empowering others to achieve their potential, and marked the beginning of my passion for mentoring.
The Power of Mentoring
We all, at one point in our lives, either mentor someone or have a mentor.  When you started at a new school, did an upperclassman or friend show you the ropes?  When you started a new job, can you remember a person who taught you the tasks of your position?  We have all had someone to help us along the way.  Why not give back to someone in your community?
Inspire Someone in Your Community
Goodwill GoodGuides® is a national mentoring program at 56 Goodwills in 38 states serving young people between the ages of 12 and 17. These young people, such as Christopher Rizzo (pictured above), are matched with adults or peer mentors who help the youth realize their potential and prepare for their future. The goal of the GoodGuides program is simple: empower young people to make positive decisions, and help them find good jobs and careers.
In the course of this year, I have heard countless stories of how mentoring changes the lives of not only the mentees, but also for the mentors.  Being a mentor allows you to  share your experiences, develop your leadership skills and, most importantly, be an inspiration in someone's life.
I challenge you to take part in your community and become a mentor.  Check out our GoodGuides page and contact the participating Goodwill near you to learn how you can change a life.