When you support your local Goodwill, you help build brighter futures for people living in your community.
With your help, 156 local Goodwill organizations across the U.S. and Canada are able to provide the skills training and assistance individuals need to find good jobs. Local Goodwill staff offers a range of needed services, including in-person and online skills as well as job training, placement services and more.
As a nonprofit, local Goodwill organizations collectively pursue a social mission focused on creating jobs and helping individuals find work. Learn more about how your tax-deductible donations create jobs for others.
YOUR IMPACT

Your investment in Goodwill provides needed services to individuals seeking work. You make the difference.
In 2019, local Goodwill organizations connected 230,000 people with jobs and provided training and support to more than 25.7 million people. Your financial support along with your donated household items is the engine that powers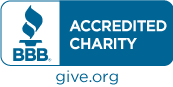 Goodwill to help individuals and families build independence and strengthen our communities. Give individuals in your community the chance to transform their lives and build brighter futures!