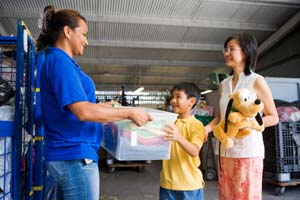 This holiday season, it's important to remember that some of the greatest gifts you can give don't have to cost you any money.
In fact, when you support organizations like ours, you provide opportunities for individuals to find employment, stabilize their lives and strengthen their communities.
That's a unique gift.
This season and all year long, keep in mind some of the ways that your support helps us in our mission of empowering people to reach their fullest potential through the power of work:
Donating and shopping at Goodwill is an economic benefit to the community. Eighty-four percent of Goodwill revenues fund critical job training programs and career services for people with disabilities, those who lack education or job experience, and others facing employment challenges.

Donating items you no longer need is a form of charity that helps others and helps you save money. When you donate, you will get a tax deduction for the item's  fair market value (PDF, 60 kb), which keeps more money in your pocket during tax time.
To ensure that your donations help reputable organizations, double check the charity before you donate.
If you have an old computer sitting in your basement, consider donating it to the Reconnect Program.
The gift of your time is valuable. Considering volunteering your professional expertise for Goodwill.
Make a greater impact by holding a donation drive for Goodwill at work or at a child's school.
You can provide tax-deductible monetary donations to Goodwill charities through our Facebook pages and online donation tools.
Last, consider using shopgoodwill.com, the first and only Internet nonprofit auction site, to do your shopping. The site was created by Goodwill and has generated more than 80 million dollars for job training programs and employment placement services.
Giving this holiday season doesn't have to be complicated. Do good. Donate to Goodwill.
– From all of us at Goodwill Industries International