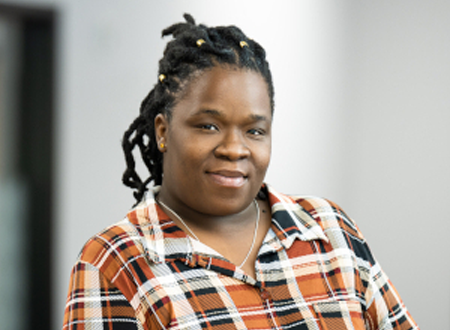 Sharika
Sharika dreamed of a career in hospitality and had been attending a technical college to get her associate's degree in hospitality. She always did her best to provide for her family, but when the COVID-19 pandemic began, that became increasingly difficult.
Like millions of others, she lost her job. With no money, transportation or health insurance available, she could no longer work toward her degree.
Sharika was also a single mother. Even when she did find a new position, she was unable to care for her daughter simultaneously and could not afford child care.
When Sharika came to the Goodwill Southeast Georgia (Savannah), she shared how much she wanted to go back to school and that financial barriers were keeping her from finishing her degree.
She met with a career specialist who walked her through some different assessments and came up with an Individualized Education Plan (IEP) to help her get back on track with schooling. One of the first things that came through for Sharika was a scholarship that took care of that financial barrier.
She also received technology assistance so that she could have a much-needed laptop, mouse and more to do her work. And, to ensure she could get back and forth to school on time, she received transportation assistance allowing her to continue her education and quickly get back to being a mom.
While she was attending school, Sharika continued to work with the career services specialist to update her résumé, write her cover letter and prepare for life after graduation. She also completed her Servsafe Certification at the managerial level via Goodwill.
In June 2022, Sharika officially graduated and earned a position at a local hotel.
From day one, Sharika knew what she wanted to do. She was on that path and just needed a little help to get through a once-in-a-lifetime pandemic.
How Your Donation Helps the People in Your Community
When you donate new and used items, such as a keyboard, you help someone like Sharika find a job.
Local Goodwill organizations sell your items in stores and online to fund valuable employment training and job placement services for people in your community.
Back to Gallery