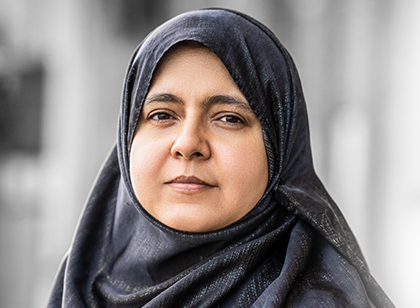 Syeda
Buffalo, NY
As a dual citizen from Iran, full-time student, single mother, and part-time daycare teacher, Syeda was struggling to meet the needs of her family while maintaining her extremely challenging schedule. She eventually needed to withdraw from school to work more hours to support her family. On the verge of burnout, she sought help from Goodwill, determined to gain a career that would allow her to independently raise her family and support herself.
Syeda accessed every resource she could at Goodwill from soft skills training that she used to power through challenging work days to coaching supports that helped advance her career search. She spent time on her days off in Goodwill's computer lab with her career coach and persistently applied to customer service roles. Today, she works at a financial planning company where she is a top performer, demonstrating to her children the benefit of hard work and determination.
How Your Donation Helps the People in Your Community
When you donate new and gently used items, such as a record player, you help someone like Syeda find a job.
Local Goodwill organizations sell your items in stores and online, and the revenue generated provides valuable employment training and job placement services for people in your community.
Back to Gallery