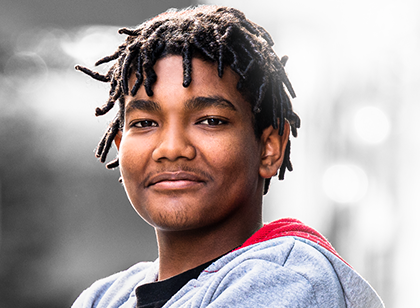 Michael
San Francisco, CA
From a young age, Michael struggled in school due to his ADHD. While also experiencing the hardships of living in a low-income household, Michael had a difficult time finding employment and relied on unemployment benefits. His father supported him as best as he could, but Michael and his father lived in constant fear of losing their home, and the relationship between father and son was often strained.
Michael graduated from high school, but he was unsure of what to do next. Michael's father found a flyer posted at a bus stop about job training at Goodwill, he suggested that they both connect with the local Goodwill Career Center for job support. Although Michael was not yet old enough to enroll, he was patient and continued to work hard until he could join the program. Once he did, he was provided with targeted resources and training — from career guidance and resume building to interview preparation and networking opportunities.
Goodwill provided both Michael and his father with the support they needed, including professional skills training for Michael and housing assistance for his father. Their time at Goodwill was transformative for father and son, as it gave them a chance to grow both personally and professionally.
How Your Donation Helps the People in Your Community
When you donate new and gently used items, such as a mixer, you help someone like Michael find a job.
Local Goodwill organizations sell your items in stores and online, and the revenue generated provides valuable employment training and job placement services for people in your community.
Back to Gallery