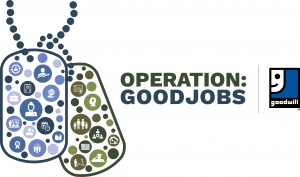 Launched in 2012 with a $1 million grant from the Walmart Foundation, Operation: GoodJobs helped 800 veterans and family members in two states. Based on the success of that pilot, the Walmart Foundation renewed its commitment the following year with $5 million in funding that expanded the initiative to four states with high concentrations of veterans: California, New York, North Carolina and Texas, changing the lives of 7,820 people in 12 communities.
Operation: GoodJobs, now in its fifth year, will continue to provide the tools and resources necessary to link veterans and military families with meaningful work so that they can gain the financial stability they deserve. The initiative aims to work with key employers and job creators to connect them with this large pool of highly skilled and mission-ready potential employees.  Through a 500,000 grant from United Services Automobile Association (USAA) will directly support career search and job attainment and advancement to mitigate circumstances that prevent a participant from achieving his or her goals.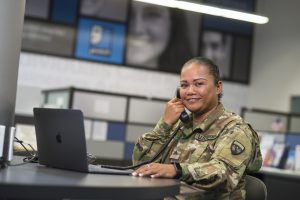 Operation: GoodJobs initiative has a primary focus to provide women veterans with the skills and supports that are needed to become self-sufficient after transitioning after military service. According to the U.S. Department of Labor, women veterans are the minority of both the veteran population and the working women population. In 2017, 2,000 women veterans in the U.S. were unemployed. The initiative has helped women female veterans gain meaningful employment at an average national wage of $15.48. The main priority of Operation: GoodJobs in its third iteration, is to bring employment and training opportunities to more women veterans and military spouses across the country
Participating local Goodwill organizations and links to their Operation: GoodJobs initiatives are listed below. If you have any additional questions, please contact your local Goodwill or call 1-800-GOODWILL.
Read the official press release here.