2020 Veterans and Military Families Virtual Summit – November 12th and 13th, 2020
Goodwill Industries International is committed to servicing our heroes and their families. During our two-day virtual conference, GII, local Goodwills and veteran-serving organizations joined by inspiring speakers to highlight lessons from individuals and organizations who serve veterans and military families.
Sessions focused on lessons learned from veteran-serving professionals on services, research and training, strategies to integrate diversity, equity, and inclusion in Veteran and Military Families program service design as well as new strategies for providing holistic services and engaging with business and workforce development professionals.
Keynote speakers included: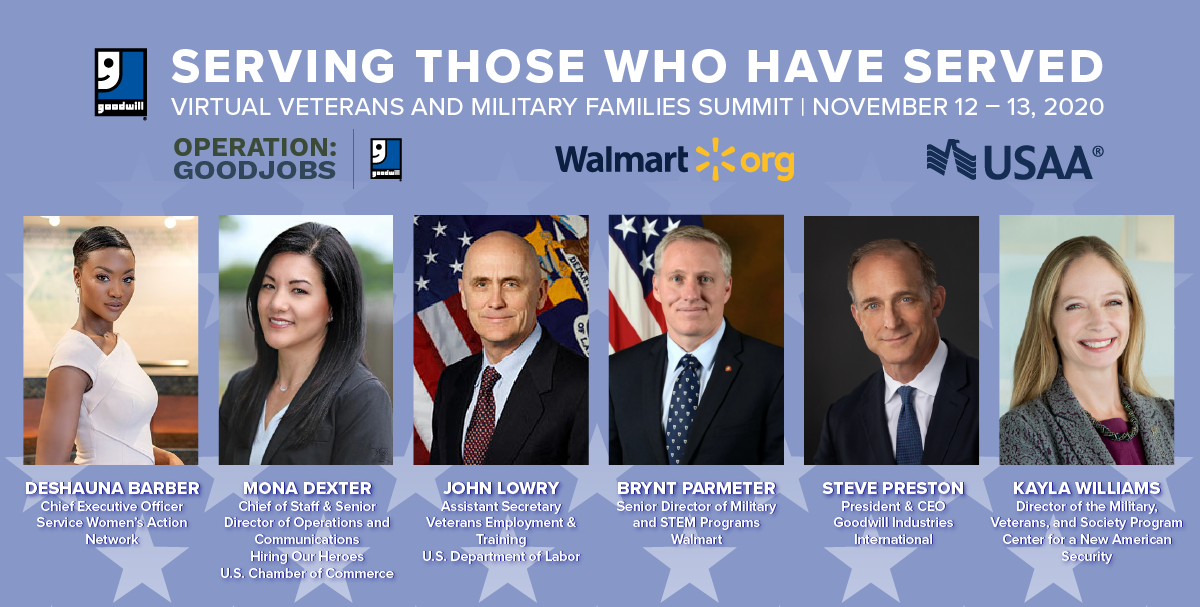 About Operation: GoodJobs
Initially and primarily funded by the Walmart Foundation with support from USAA®, Operation: GoodJobs (OGJ) supports 10 community-based Goodwill organizations with funds to provide tools and resources that equip veterans and military families with advanced labor market information; access to employment, training, credentials and career advancement opportunities; financial wellness resources; and more. The United Services Automobile Association (USAA) has provided supplementary funding to Operation: GoodJobs, which will directly provide wrap around supports services for 5,000 veterans and military family members at local, community based Goodwill organizations in the targeted states.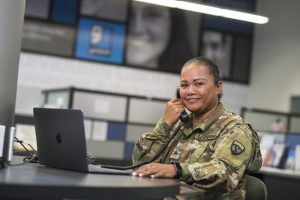 Operation: GoodJobs initiative has a primary focus to provide women veterans with the skills and supports that are needed to become self-sufficient after transitioning after military service. According to the U.S. Department of Labor, women veterans are the minority of both the veteran population and the working women population. In 2017, the Bureau of Labor Statistics reported that 49,000 women veterans in the U.S. were unemployed. The initiative has helped women female veterans gain meaningful employment at an average national wage of $15.48. One of the main priorities of Operation: GoodJobs in its third iteration, is to bring employment and training opportunities to more women Veterans and military spouses across the country.
While the initiative serves both male and female Veterans, Operation: GoodJobs offers customized services to connect National Guard, Reservist and women Veterans in the targeted states with training, employment and career advancement opportunities.
Participating local Goodwill organizations and links to their Operation: GoodJobs initiatives are listed below. If you have any additional questions, please contact your local Goodwill or call 1-800-GOODWILL.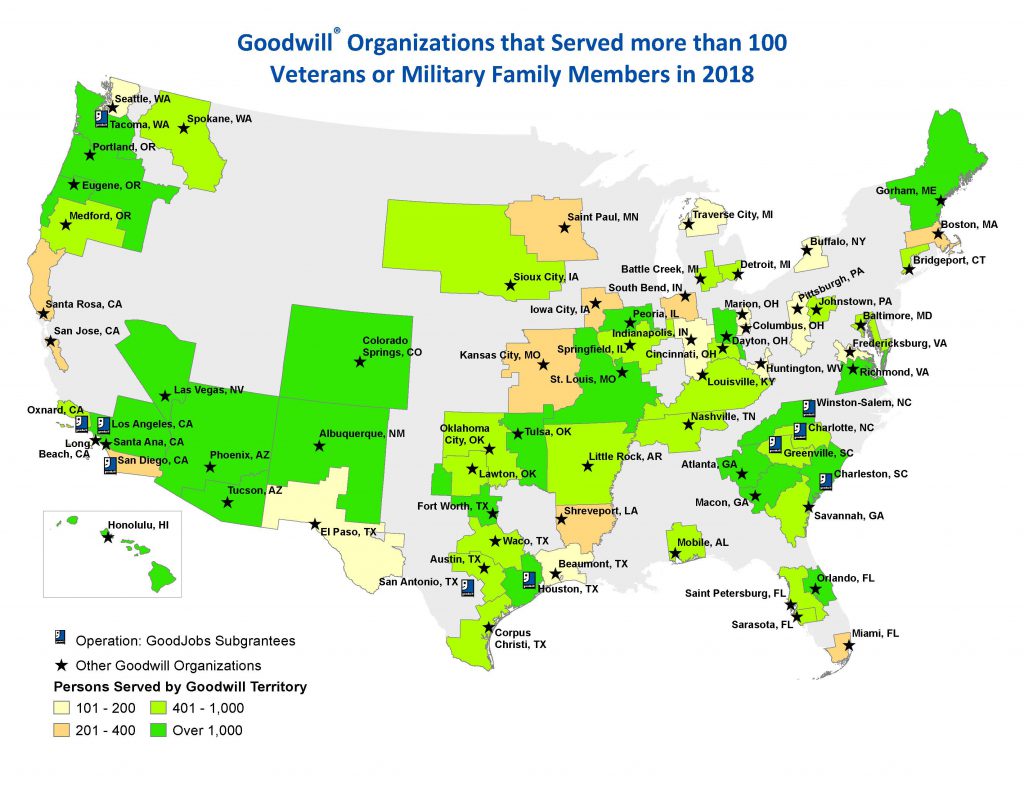 Read the official press release here.