Rockville, MD — More than 170 representatives from Goodwill® including CEOs, workforce professionals, volunteer board members, and program participants will gather on Capitol Hill on Wednesday, April 28 to urge Congress to invest in the American workforce through federal job training programs.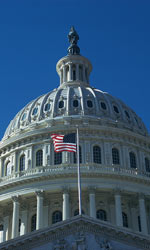 Goodwill intends to engage policymakers in support of funding for critical job training programs, employment placement services and other community-based programs that Goodwill provides in 166 Goodwill agencies across the country.
"At Goodwill, we know firsthand that it takes more than a helping hand to be relevant in today's economy," said Jim Gibbons, president and CEO of Goodwill Industries International. "It takes a strategic workforce development system that provides core employment services to job seekers and meets the specific needs of employers in communities nationwide. Now is the time to invest in our most valuable economic resource — the American worker."
Among the areas of importance to Goodwill and the people that we provide opportunities for include:
Federal funding: Americans are currently facing unprecedented economic challenges. Although workers are willing to do whatever it takes to weather the economic storm, many are unable to find work and are desperate for job training and career support, particularly people with disabilities, workers over the age of 55, or others facing challenges to finding employment. Goodwill is urging Congress to invest in the American worker by fully funding the Workforce Investment Act (WIA) and the Rehabilitation Act, and by rejecting proposed cuts to the Senior Community Employment Services Program (SCSEP).
WIA: The Workforce Investment Act (WIA) was designed to create a universal system of one-stop career centers that provide access to training and employment services for the individuals who need them most, including adults and youth with low incomes, and people with disabilities. In 2009, more than 20 million workforce development services were provided to nearly 2 million people including those referred to Goodwill through the WIA and vocational rehabilitation system. However, the proposed FY 2011 funding for the WIA is 7 percent below FY 2002 funding in actual dollars, and at local Goodwill agencies, funding for training is spread desperately thin. Goodwill urges the President and Congress to fully fund employment training programs and reauthorize the WIA.
Read more about our public policy agenda (PDF, 101 KB).