ROCKVILLE, MD. — To make it even more convenient for consumers to recycle their unwanted computer equipment, Goodwill Industries International and Dell® have added 445 more ReConnect donation sites to their collection network. The additional sites, located in Arizona, Georgia, Maryland, Nevada, Ohio, Pennsylvania, South Carolina and Tennessee, bring the number of Goodwill stores participating in ReConnect to more than 1,900 nationwide.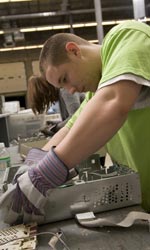 ReConnect, a partnership between Dell and Goodwill Industries International, enables consumers to responsibly recycle any brand of unwanted computers or computer accessories at no cost.
A recent study by Pike Research found that more than 75 percent of consumers see recycling as the answer to reducing electronic waste, and 37 percent think recycling their unwanted technology should be a free service.
The first Reconnect program began in Austin, Texas, in 2004. To date, ReConnect has diverted more than 96 million pounds of e-waste from landfills, the equivalent of 31,558 Toyota Priuses, and created more than 250 "green jobs," with Goodwill employees managing responsible computer disassembly and disposal.
"Goodwill is a leader in the 'reduce, reuse and recycle' model," said Jim Gibbons, president and CEO of Goodwill Industries International. "The ReConnect partnership with Dell teaches consumers the importance of expanding the life cycle of their unwanted electronics through environmentally responsible computer disposal, and, at the same time, it creates thousands of jobs and revenue for job training opportunities, specifically entry-level and green-collar jobs for people in need of work."
Individuals who drop off their computer equipment at participating ReConnect locations will receive a tax receipt, regardless of the brand and condition of the equipment. Consumers are responsible for removing all personal data prior to donation. Donated equipment meeting ReConnect's criteria will be resold and devices in need of repair will either be refurbished or broken down into parts to be recycled by Dell partners.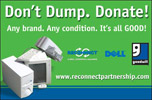 The revenue from the recycled computer equipment supports Goodwill's job training programs, employment placement services and other community-based programs for people who have disabilities, lack education or job experience, or face other employment challenges.
"Reconnect is an entrepreneurial business model that recycles usable items in environmentally sound ways, creates jobs and preserves our planet," said Mike Watson, senior manager of Dell Global Recycling Services. "It's been incredibly successful in its first five years, and it will only become more successful as consumers learn what to do with their computers at the end of their usable lives."
For a list of participating Goodwill locations across the United States, visit the ReConnect Partnership web site.