Jeffrey McCaw Steps Up to Lead Goodwill's Finance Department
Rockville, MD –Jeffrey McCaw, CPA, has been named as Goodwill Industries International's chief financial officer (CFO), effective immediately. McCaw has served as the organization's controller for more than six years. In his role as CFO, McCaw will oversee all activities associated with finance, reporting, planning and monitoring of financial functions within a $50 million annual budget.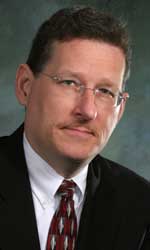 McCaw, who happens to be hearing impaired, has more than 20 years of experience in public accounting, including strong fiscal management in financial programs, policies, compliance and procedures. During his tenure at Goodwill®, he has led the organization's finance department, overseen the timely filling of its Form 990, handled its annual audit, acted as liaison to Goodwill's Board of Directors Audit and Finance Committees, and reported on financial issues to Goodwill's executive leadership team. Prior to joining Goodwill, McCaw spent seven years as a controller for a leading Washington, D.C., metropolitan CPA firm, Baker & Tilly (formerly Beers & Cutler, PLLC).
McCaw was promoted to CFO based on his direction in developing, growing and managing Goodwill's accounting department. Goodwill Industries® provides job preparation, skills training, education assistance and support services to two million people a year who are facing challenges to finding employment.
"Jeff McCaw was named CFO based on his strategic leadership in all accounting and business functions for a leading social enterprise serving people with disabilities and those facing disadvantages to finding employment," said Jim Gibbons, president and CEO of Goodwill Industries International. "He will bring both personal and professional expertise that will allow him to serve as a catalyst for growing the Goodwill mission — funding career assistance for those most in need of employment."
McCaw earned his bachelor's degree in accounting from the Rochester Institute of Technology – National Technical Institute for the Deaf. He is an active member of the American Institute of CPAs, the Greater Washington Society of CPAs and the Pennsylvania Institute of CPAs. McCaw has held the position of treasurer on two boards of organizations who provide support to people with hearing impairments for a period of three years each. These boards included the Berks Deaf and Hard of Hearing Services and the Deaf Abused Women Network (DAWN).