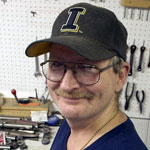 Robert "Bob" May is a veteran of the U.S. armed services and spent a decade homeless, living on riverbanks and wandering along railroad tracks.  A divorce had triggered severe depression.  He also stopped taking medication for his bi-polar disorder and began drinking heavily and abusing drugs.
One day in 1995, a local organization for American veterans with disabilities discovered May living under a bridge and referred him to the Goodwill Serving Eastern Nebraska and Southwest Iowa in Omaha.  He was initially hired as a custodian and, today, works as an equipment repair technician.  As part of Goodwill's commercial services program with NISH/AbilityOne, he restores and repairs a wide array of janitorial equipment at Offutt Air Force Base in Nebraska.
In addition to being solely responsible for repairing all janitorial equipment, May's coworkers rely on him to repair items in a timely manner.  His work literally saves Goodwill thousands of dollars each year in expenses—money that funds Goodwill's job training programs and career services.  May has the ability to repair almost anything—snow blowers, lawn mowers etc.
"When I repair something, I feel a sense of accomplishment that I was able to help this person," May said.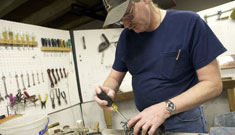 Prior to coming to Goodwill, May felt uneasy around people and kept to himself.  Since he joined Goodwill, he has made great strides to overcome his feelings of inadequacy.  He attributes the stability of his Goodwill job for helping him remain sober for more than 14 years.  He often says he is one drink away from living under a bridge and credits his supervisors at Goodwill for keeping him grounded.
In 2004, May suffered a severe knee injury.  After several surgeries and months of physical therapy, May returned to his job at Goodwill.  He will never regain full use of his leg and walks with a cane, but he continues to work hard and maintain a positive attitude.
"Goodwill has given me the opportunity to be all that I can be," May said.  "Goodwill is my life.  All of my friends are here at Goodwill."
(Photos by Bob Ervin of Ervin Photography.)