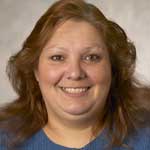 Alcohol abuse and violence were a part of Candy Nunez-Jura's childhood. She and her younger sisters would hide in the family car to escape from her father's abuse. At age 18, Candy became pregnant and got married. Her new husband was also abusive. After several years and the birth of her second child, Candy left her abusive husband and had a difficult time finding a job and supporting her family as a single mother.
She suffers from dyslexia, therefore, never learned to read or write and struggled with severe arthritis in her hands.
Although she received public assistance, she wanted to work — especially with children with special needs. In 2000, Candy began the START program at Goodwill Industries Serving Eastern Nebraska and Southwest Iowa in Omaha. She filled out applications and searched for a job with the help of an employment specialist. Several months later, Candy applied for an opening in Goodwill's Commercial Contracts program. The program helps individuals with disabilities excel in employment opportunities in a supportive environment.


Today, she works with high school students with special needs. She takes literacy classes, earns a paycheck and helps support her family which includes her children, four grandchildren and a new husband.
"I have gained a sense of worth and well-being working at Goodwill," says Candy. "My job at Goodwill has given me the opportunity to work with children with disabilities, something I was told I would never do."
Candy's supervisor notes, "Candy has this sense of self-confidence that she did not have when she first came to Goodwill. She is truly a remarkable person."