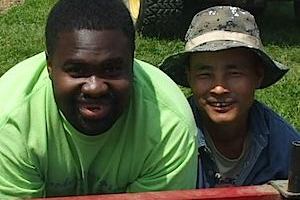 Goodwill Keystone Area (Harrisburg) offers local residents the opportunity to eat healthy, locally grown produce while supporting the Goodwill® mission through Goodwill at Homefields Farm, a Community Supported Agriculture (CSA) program in the heart of Millersville, PA. CSA members can receive freshly harvested food, grown without chemicals. At the same time, Goodwill at Homefields Farm trains and employs people with disabilities. 
Goodwill Keystone Area established the current program in 2000, and trainees began learning how to plant seeds and nurture the seedlings, transplanting them into the fertile soil, and eventually harvesting ripe vegetables and fruits, enjoying the fruits of their labor. The farm catered to 28 shareholders.
Today, the 180-member CSA offers 45 different fruits, vegetables and herbs and employs 10-15  trainees. The Lancaster Online posted a story on the impact that working on the farm has had for some of Goodwill at Homefields Farm participants last year.
Each week, from June to November, CSA shareholders come to the farm to pick up their share of produce, which has been harvested and cleaned. Half shares, which feed two people, cost approximately $17 each week. Meanwhile, full shares are recommended for families of four and cost $29 per week.
To give customers a better sense of what is included, the farm provides an example of what a full share looks like: four pounds of tomatoes, four sweet peppers, two zucchini, three pounds of potatoes, one pound of chard, one pound of spinach, two eggplants, two bulbs garlic, two watermelons, and two cantaloupes. Shareholders also have access to pick-your-own (PYO) hot peppers, herbs and flowers.
Overall, perceptions of the facility by the community have been positive over the years. Goodwill at Homefields Farm shares one member's experience about family time on the farm: "I wanted my 3 year old to know where his food comes from. Toward the end of the first week, he started asking when we are "going to the farm?" He loved being able to pick the food out of the bins as well as going into the fields and picking his own fruits and veggies."