Senior Community Service Employment Program (SCSEP)
At Goodwill®, we help seniors find work, develop new skills and talents, and build their financial security by taking advantage of the Senior Community Service Employment Program (SCSEP).*
SCSEP is an on-the-job training and employment program designed to help those aged 55 and older update their jobs skills, build work experience and confidence, and continue to have economic security and well-being.
View our video for a quick overview about the SCSEP.
As a Participant
You receive paid training, gain valuable skills and experience, and build self-confidence. You can use your skills and talents to improve your community by training in a wide variety of locations, including offices, hospitals, daycare centers, and other community organizations.
Want to know if you qualify? Answer the following questions: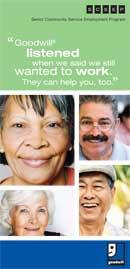 SCSEP Pamphlet
(PDF, 1.7 MB)
Information on our program – print for yourself or give to a friend.
Are you 55 years of age or older?
Are you unemployed?
Do you earn a low or no income? (Goodwill will help you determine the income criteria.)
Do you wish to work in your community?
Do you want to be paid to learn new skills through on-the-job training?
If you answered "yes" to the above questions, you may be eligible for SCSEP.
Currently, SCSEP operates in six states. Even if the Goodwill in your area is not currently involved with SCSEP, it may still offer services to help you find a job. Contact an employment specialist at the Goodwill near you to find out which of its services may be of benefit to you.


Goodwill SCSEP Locations
New Mexico
Goodwill Industries of New Mexico
5000 San Mateo Boulevard, N.E.
Albuquerque, NM 87109

SCSEP Program Manager: Sue Chapman
Phone: (505) 998-2896
E-mail: schapman@goodwillnm.org
Arizona
Goodwill Industries of Central Arizona
417 North 16th Street
Phoenix, AZ 85006

Phone: (602) 535-4000
SCSEP Program Manager: Stacey Van Emst
E-mail: stacey.vanemst@goodwillaz.org
Pennsylvania
Goodwill Keystone Area, Inc.
300 Welsh Road
Building 4, Suite 155
Horsham, PA, 19044

SCSEP Program Manager: Mike Ross
Phone: (215) 653-7095
E-mail: mross@yourgoodwill.org
Virginia
Goodwill Industries of the Valleys, Inc.
Workforce Development Division
1076 Jefferson Highway
Staunton, VA 24401

SCSEP Program Manager: Gale Vest
Phone: (540) 213-1332
E-mail: gvest@goodwillvalleys.com
Indiana
Goodwill Industries of Central Indiana, Inc.
1635 West Michigan Street
Indianapolis, IN 46222

SCSEP Program Manager: Charlene Williams
Phone: (317) 264-1313
E-mail: cwilliams@goodwill-indy.org
Washington
Tacoma Goodwill Industries, Inc.
714 South 27th Street
Tacoma, WA 98409

SCSEP Program Manager: Paul Spears
Phone: (360) 501-8342
E-mail: pspears@tacomagoodwill.org
SCSEP services are available in every county of the United States. If you do not live in one of the areas where Goodwill operates the program, call (877) 872-5627 or use the American Service Locator to find your local SCSEP provider.

* We proudly participate in the Senior Community Service Employment Program (SCSEP), a national employment and training program funded by the U.S. Department of Labor.
---
81 Comments
Add a Comment*
*Your comment will be held for moderation until approved. For questions about Goodwill programs and services, please use our locator and contact your nearest Goodwill headquarters.