I'd say there's just enough time for one last weekend away at the ski slopes or an ice fishing cabin before the winter disappears, so let's make it the best it can possibly be! Here are a few projects that can help you enjoy a cozy cabin weekend away (or help you create that same comfy feeling at home). Local Goodwill organizations helps support services for millions of people annually, and delivers positive social and environmental outcomes for the global community, so grab your project supplies at your local Goodwill to make your dollars go a little bit further!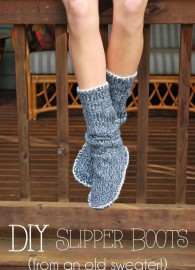 Image via pinterest.com/mersgoodwill
These DIY slippers made from an old sweater will help you stay toasty warm when you come inside after hitting the slopes. I found the tutorial on the Fashion & Accessories pinboard put together by MERS/Missouri Goodwill Industries (Saint Louis). There is a ton of great sartorial inspiration there, but this one caught my eye because of its thrifty reuse of a second-hand sweater and how simple the project seems! If you're not a skier, this would be a great way to occupy your time in the lodge while the rest of your crew does their thing and only requires a few supplies so you won't have to pack your whole craft room. Click through for the instructions!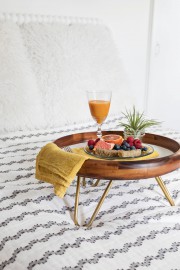 Image via abeautifulmess.com
On a fun weekend away, there's no better start to the day than breakfast in bed! Treat your pals (or maybe they'll treat you?) by delivering a syrup-drenched pancake stack straight to bed on a cute breakfast tray. This one was made by Rachel from A Beautiful Mess and, of course, she thrifted some of her supplies! If you can believe it, the white leather that she used to line the tray was a magazine rack found at her local Goodwill (I've definitely seen similar wooden trays in my thrift store travels, too). Hairpin legs can be pricey when you're buying them brand new so I always try to keep an eye out for those when I shop second-hand as well. Don't be afraid to remove them from outdated furniture and add them to your new creations for an inexpensive vintage-style look.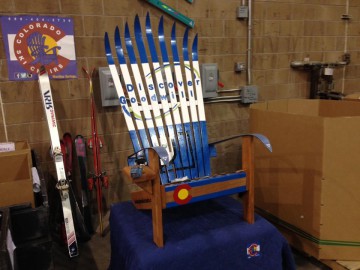 Image via facebook.com/DiscoverMyGoodwill
Now, here's one way to bring a little of the ski slope home at the end of a great season: turn second-hand skis into a sturdy lawn chair! This idea shared on Facebook by Discover Goodwill of Southern & Western Colorado (Colorado Springs) got my wheels turning and led me to see what other projects people have crafted from thrifted skis. Go ahead—Google "Goodwill Ski Coat Rack" or "Ski Headboard" for a little après-ski project inspiration. Is water skiing is more your speed? The thickness of those make for great shelves. DIY decor like this is such a fun way to repurpose thrifted or broken skis while making your passion a part of your home.
Hopefully these ideas will help you enjoy the end of the seas and get winter sports-lovers through to next year. Now it's time hit the slopes, friends! And don't forget your cocoa!