On the East Coast, the nights have started getting colder, the air becoming crisper as the color of the foliage begins to change and flutter to the ground. It's clear that Autumn is coming — the passing of Labor Day putting an end to frequent weekend trips to the beach and the wearing of white pants, and I want my home to be prepared as sweater season starts to kick in!
Now that I'm spending most of my time in my apartment, it's important to me to have cozy nooks where I can snuggle under a blanket and read, write, or simply relax with a mug of herbal tea. As I now work from home and will continue to do so for the foreseeable future, I've been trying to tackle the difficult task of keeping my work and "fun" lives separate, working in a different corner than I relax in. This article shares more tips on creating a productive workspace with items that won't break the bank, but will help you create this separation as well!
As you begin to welcome fall into your home by thinking about cozy décor, consider shopping for seasonal decorations, books and furniture at your local Goodwill. You'll find show-stopping fall pieces for a bargain, and you might come home with inspiration for a custom DIY project or two as well!
1. Cozy Corners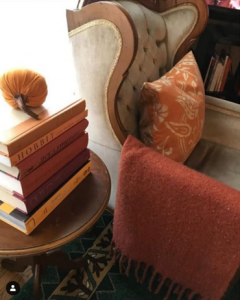 Photo: @houzestyle
For me, the only comfort that colder weather brings is knowing I'll have the perfect excuse to snuggle up on a chair or couch with a soft blanket and a stack of books I've been meaning to read all summer. As we spend more and more time at home, it's important to create these areas where you can simply relax — and books, a cozy blanket and a gorgeous thrifted chair can do just the trick.
2. Faux Foliage
A sophisticated fall-scaped mantlepiece is a versatile way to let a little fall into your living room all the way through the Thanksgiving holiday. By layering faux fall foliage, gourds and carefully selected vases and planters, you can create a fall landscape that brings the best of the outdoors inside your home.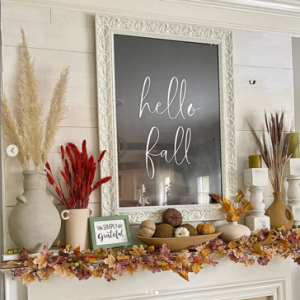 Photo: @the_melton_homestead
3. Pumpkins & Pictures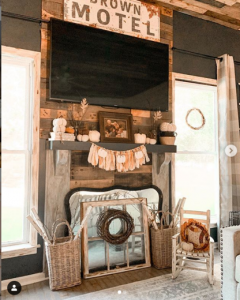 Photo: @brownies_forever_farmhouse
Especially in recent years, wooden signs with phrases like "Gather" and "Come Together" have become extremely popular in home décor, especially when it comes to fall! These signs are great and — much to my boyfriend's chagrin — our apartment has a few of these strategically placed all over as well. But it's important to remember that among the signage and pumpkins, you can never go wrong with a few family and friends photos. During a time where we may not be able to see our loved ones as often as we'd like, pictures can be a way to bring them into our homes, making them feel all the more safe and cozy because of it.
4. Fall Furniture DIY
[BEFORE]                                        [AFTER]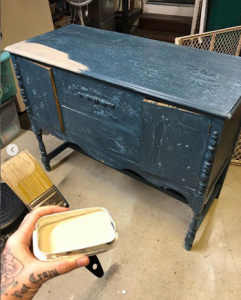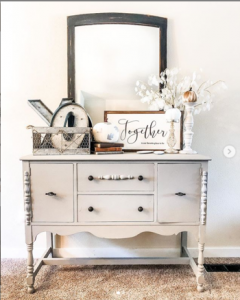 Photos: @ashalynnsrustichome
Goodwill furniture shoppers have such a fantastically creative eye for before-and-after furniture projects that I constantly find myself in awe. This antique buffet table revamp is so stunning — and the idea was spurred by a serendipitous trip to Goodwill! A little bit of paint and some fall signage is all you need to create the perfect fall entryway.
Feeling inspired? Head to your local Goodwill to pick up a few items to bring the essence of fall into your home. Many local Goodwill stores require a face covering and encourage social distancing, so don't forget your face mask and be sure to stay six feet apart from your fellow shoppers.