With new styles hitting the market all the time and lovely seasonal-specific colors, it's easy for nail polish lovers to end up with a much bigger collection than they ever intended. If that sounds like you, we've got some new ideas today for how you can put all of those beautiful colors to good use with some easy craft ideas. Ready?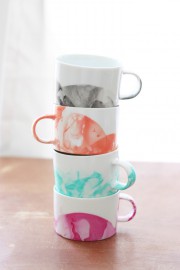 Image via diycandy.com
The moment I saw these DIY marbled mugs shared by Goodwill Industries of Kanawha Valley, Inc. (Charleston, West Virginia) I was instantly in love! Marbling is everywhere lately and these bold colors pop against the thrifted white mugs in such an interesting way. At just .79 cents per mug (and nail polish she already owned), the gal who polished up these beauties had six gorgeous new pieces for only a few dollars thanks to Goodwill. Since the process is as simple as pouring the nail color into hot water then dipping in the mugs, it's a fantastic way to use up the last bits of polish that you can't get out of the bottle with its brush. Don't forget to check out the DIY Goodwill Favorites pinboard where I found this for other great crafting ideas.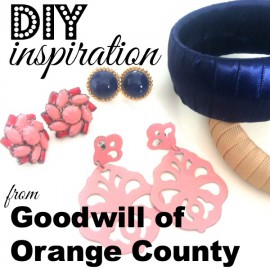 Image via blog.ocgoodwill.org
Next up are these pieces of enamel-like jewelry that Nicole from Goodwill of Orange County (Santa Ana) created. She grabbed some dated pieces from under the display case and brushed on a bit of nail polish for this fun effect. Right now, enamel pins are all the rage in the world of accessories and, as it turns out, nail polish has a way of mimicking that texture. So, go wild adding your favorite hues to dated pins or jewelry to create something that's truly unique. We all have that one go-to nail color that seems to match almost any outfit we wear so why not preserve it as a permanent accessory? This way you'll be able to enjoy its beautiful color for a lot longer than the time it takes a manicure to chip.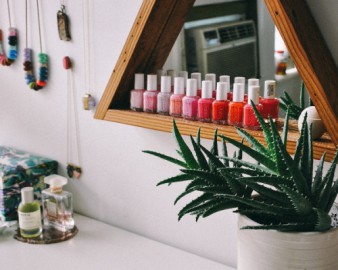 Image via designsponge.com
Okay, now on to a more practical topic—nail polish storage. There are a lot of efficient ways to stash your polish, but I promise you that piled up in a shoebox is not one. It wouldn't take long to organize your colors into an easy-to-access, beautiful display with a little help from some thrifted decor like the ledged mirror pictured above. Any mirror or picture frame that has a lip would work for this purpose (you could even add more shelves all the way up the mirror!) so be on the lookout for pieces like this the next time you're in Goodwill. Or, click through to this round-up by StyleCaster to see what other thrift store finds can double as nail polish organizers.
Besides saving money and the planet by repurposing your thrift store finds into fun home and style accessories, by spending money at Goodwill you're also helping your community. Goodwill is proud to be recognized by GuideStar with its Platinum Seal of Approval, the organization's highest rating for charities, and your support allows that mission to continue to thrive. Keep up the great work!