Easter is only days away now, but it's not too late to boost your celebration by adding a little something extra. We've got ideas for gifts, decor, and dress. So, no matter how you plan to spend Sunday, here are a few ideas to make the most of it…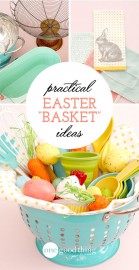 Image via onegoodthingbyjillee.com
How old is too old for an Easter basket? I'm of the opinion that there's no age limit to something so fun and simple. For adults, a tradition like this can be a practical way to show that you're thinking of someone. New homeowners or a young adult about to move into their first apartment would really appreciate a kitchen utensil basket like this one shared by Goodwill Industries of North Central Wisconsin, Inc. (Menasha) on their Easter and Spring! Pinboard. If there's someone you know who could use a little spring surprise, scout out some goodies from Goodwill that might be useful to them. By arranging gifts in a thrifted basket (or colander!) you get to save money and help the environment by reusing donated goods. When you donate your stuff to local Goodwills, you create opportunities for individuals in your community looking to find jobs, build skills and earn credentials, including veterans and military families, single mothers and those who lack education or work experience.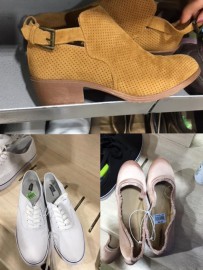 Image via archesnews.com
Now, onto Easter attire! I was fawning over these perfect ballet flats last autumn in Target, but with months of snow ahead I just couldn't commit. Enter, the magic of Goodwill—the place where pieces you lost the chance to buy in their original shop show up at half-price (or more!) when the timing is better. I can't imagine a more perfect Easter shoe than these blush pink beauties. All three sets of shoes in this picture are part of a Spring Goodwill Haul reported by the blog of Arches Mount Mary University. The haul also includes cute dresses, flowy blouses, and fun rompers! There's tons of spring style inspiration over there so make sure you check it out. Or, better yet, see what your local Goodwill has for the upcoming seasons!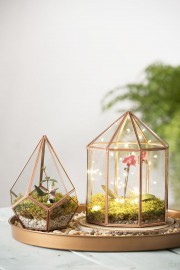 Image via goodwillvirginia.org
Will you be hosting dinner this Sunday? It's not too late to create a few quick and easy DIY decor pieces to charm your guests. Check out this list from Goodwill Industries of Central and Coastal Virginia (Richmond) for a few ideas. My favorite is this sweet terrarium centerpiece. Look for a metal tray and similar pieces of glassware (or even lanterns!) then fill them with pebbles, moss, and a humble little plant or two. The twinkle lights bring even more whimsy and can add extra lighting if your family dinners tend to run late. Decor like this perfectly captures a spring mood, but integrates well into the rest of your home once this season passes so it's not a purchase you have to tuck away for most of the year. Those are the best in my book!
I hope you have a wonderful weekend hunting for eggs, spending time with family, or celebrating the season in your own way. Happy Easter!