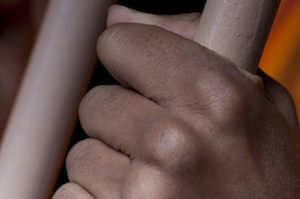 Approximately 700,000 people will be released from state and federal prisons this year. As many as two-thirds of will return to prison within three years of their release. As the nation's largest provider of job training services, Goodwill® knows that work is one of the keys to successful reentry from prison. Unfortunately, having criminal history often serves as a scarlet letter to employers.
A number of Goodwill agencies run a variety of programs that aim to help people who have been convicted of crimes to find and keep jobs. People like Devon Williams who, while serving a seven-year sentence, participated in a reentry program run by Goodwill. They helped him to develop his résumé, take college courses at Virginia Western Community College and obtain additional supports that have helped him to find a job while continuing his education.
Some of Goodwill's work to help people with a criminal background is supported by the Second Chance Act, a federal law, signed by President George W. Bush in 2008, that established and shapes reentry programs for returning prisoners. Since the Second Chance Act's enactment, nearly 600 grants have provided approximately $300 million for the development, implementation and coordination of pre- and post-release reentry services, such as employment training.
Congress is on the verge of advancing the Second Chance Reauthorization Act (S. 1690/H.R. 3465). Among other things, the bill would extend the act for five years; expand existing correctional education and employment initiatives; increase the number of grant programs available to nonprofits; and improve accountability.
Goodwill supports this bipartisan legislation and urges Congress to pass the bill this year. Sources on Capitol Hill inform us that the Senate Judiciary Committee is likely to consider the bill in September. The House may advance the bill soon after. Additional co-sponsors would help the bill's chances for success. Click on the links below to urge your Members of Congress to co-sponsor the Second Chance Reauthorization Act.
Public supporters click here.
Goodwill staff click here.
Goodwill CEOs click here.