As someone who loves soaking up sunshine and warm weather, you better believe that the first gust of dropping temperatures has got me feeling a certain type of way. When full on fall and winter weather hit – I know the only thing that will help me stay warm while keeping my cool is layering up with all things cozy. Fortunately, the stars aligned this season and layering, especially with fun plaid blazers, provides the opportunity to create some fun, chic looks while staying on trend.
I love using blazers instead of jackets in the fall. Whether you're heading to the office, out to brunch or simply to spend the day sitting on a park bench with a good book, there's no instantly easier way to make an outfit look put together than to toss a blazer on top. This season I'm especially excited to pull together some special outfits, channeling my inner 90's girl, with a few fun slightly oversized blazers – yes, some with shoulder pads – that I found at my favorite NYC Goodwill store, and also in the back depths of my mom's closet
Blazers are statement pieces that should grace every woman's closet. They're convenient to style, because underneath you can simply wear plain basics, like solid color tank tops, shirts and my favorite blazer pairing – turtlenecks. As long as you're able to match the color of your shirt with your blazer, you should be good to go, and of course feel free to let your creativity and self expression shine through with unique pairings.
For a little extra style inspiration for the recurring blazer trend, make some popcorn and watch Clueless, you know, the timeless chick flick where the main character, Cher, wears an iconic plaid mustard-colored blazer and matching skirt. Yes, these outfits are back in style! You can head to your local Goodwill store to find some similar pieces from the 90's, while also supporting your local community. Each purchase you make at your local Goodwill supports job assistance and even provides skill-based opportunities to those who are facing challenges finding employment.
You can also check out the looks below for more blazer styling inspiration, where all blazers pictured have been thrifted from local Goodwill stores across the country. I love seeing how women across the country have started styling their outfits with blazers this fall, and want to see how you express yourself with layers too! Make sure to tag @goodwillint for a chance to be featured on the Instagram page, and maybe even in a future blog post!
The look below is fabulous – @currentlykharington pulls together her unique look with round, tassel statement earrings, a polka dotted blouse and plaid blazer. She has the quintessential fall style, and it was thrifted from Goodwill!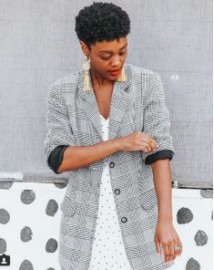 Photo by @currentlykherington
I love the way @tailoredinwhitedesigns paired her wool plaid thrifted blazer with a solid black top and pretty suede skirt. This is a great outfit, especially as the weather continues to transition from summer to fall.

Photo by @tailoredinwhitedesigns