Central to every holiday is at least one symbol, rich with meaning. For Christmas, we often think of the Christmas tree. For Hanukkah, a menorah. And one of the significant emblems included in Kwanzaa is the Unity Cup. While every holiday is uniquely important, there exists a common thread between many: togetherness. Today we'll be sharing a few projects that thrifters have constructed to celebrate their own traditions in their own way. Each would be a beautiful reason to spend time with your loved ones and practice the rituals of your heritage together.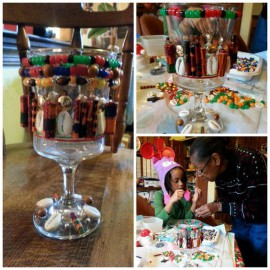 Image via pinterest.com/sydneylewis7169
When I first saw this picture, shared by Sydney Lewis on Pinterest, of two generations working together to decorate a Unity Cup, I felt it perfectly captured the feeling of the holiday season. They're spending time with one another and sharing in their celebration. If Kwanzaa is a part of your family's holiday tradition, creating your own Cup would be an easy way for kids to get involved in the preparations. Since the goblet itself was found on Goodwill shelves and decorated with shells and beads held in place with hot glue, it can be a stress-free and fun afternoon project.  While you work together, you'll have the perfect opportunity to walk your children through the meaning of Kwanzaa to explore your family's heritage in depth.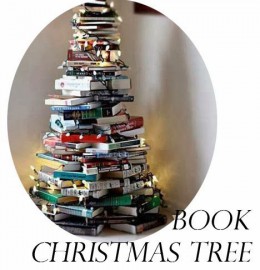 Image via goodwillsp.org
Book-lovers and tree-huggers are just two groups of people who may want to swap out a traditional Christmas tree in favor of a book tree this December. If you hate vacuuming up evergreen needles or hauling a fake tree up from the basement, maybe you, too, would appreciate it. Your book tree could be a small table top display put together with books you already have scattered around. Or, you could take a page out of Goodwill Industries of the Southern Piedmont (Charlotte)'s book and construct a festive full-sized faux fir starting with favorites from your family's library and rounded out by some newly thrifted finds. The bindings bring in plenty of color so additional decor can be as simple as a string of white lights. Click through to their blog for this and two other repurposed Christmas decor ideas!

Image via Ilovegoodwill.org
This last project is so amusing, it's sure to grab the attention of even the youngest kids celebrating Hanukkah: a Menorahsaurus! Goodwill Industries of Central North Carolina, Inc. (Greensboro) put this together from a thrifted dinosaur and some basic crafting and hardware supplies. With this kind of excitement (plus a dreidel and some gelt, of course!), the whole family will gravitate to your common space making it easier for parents to engage kids in the holiday's traditions.
How will you share your favorite rituals with your friends, family, or community members this season? Well, if giving is a part of your tradition, you can get started simply by shopping at your local Goodwill organization for project supplies or gifts. The dollars you spend at your local Goodwill  (as well as the donations you drop off!) make a positive impact in your community and on the environment. So, no matter which holiday you observe, you'll be bringing neighbors together simply by celebrating in your own way.