There are a lot of reasons why you might not buy that amazing catalog or boutique piece you're currently obsessed with: As an in-demand item, it could constantly be out-of-stock; perhaps you discovered it on Pinterest a season too late when it's no longer for sale, or, simple enough, the price tag could just be too steep. Whatever your reasons, don't forget that you can probably recreate your favorite trends using Goodwill finds. Here are a few examples: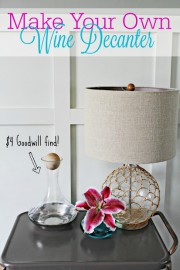 Image via http://homemademodernblog.com
Okay, this first project is near and dear to me because I actually saw a wine decanter with a round wooden stopper recently and could hardly contain myself. It's just so beautiful! I love the clean modern silhouette of the glass which is grounded by the wooden sphere. So, when I saw that Valerie from Home Made Modern had recreated this look with Goodwill glassware, I was in love. For just over $5, she fixed up her own decanter instead of paying more than $30 for a readymade one. Another great perk is that those dollars Valerie spent help Goodwill organizations address the unique needs of families by providing financial education and planning as well as coaching and counseling tools to develop and meet financial and asset-building goals. A great purchase in so many ways!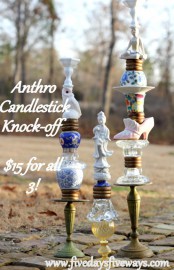 Image via thegirlcreative.com
Of course, she's not the only crafty person out there who turns to Goodwill to recreate trends for less! Goodwill Industries of the Valleys, Inc. (Roanoke) pinned the above candlestick project to their DIY for the Home pinboard. You can click through to see how a resourceful Goodwill shopper put together these whimsical and eclectic decor items from pieces she sourced in thrift stores. To purchase all three of the candlesticks which inspired the project, one would have had to spend more than $1,000. Instead, $15 and some imagination turned napkin rings and knick-knacks into one-of-a-kind creations. Ready to make your own? That sounds like the perfect weekend project to me.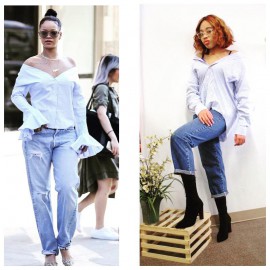 Image via facebook.com/GoodwillWNY
These rules apply to fashion, too, you know. When Rihanna strolls down the street in slouchy jeans and an off-the-shoulder take on an oxford shirt, it's easy to feel inspired. But without a best-selling artist's bankroll, you probably won't be able to afford fresh-off-the-runway attire. Thankfully, Goodwill Industries of Western New York, Inc. (Buffalo) shows us on their Facebook page how we can get this look for less.  They sourced similar pants and added a relaxed roll at the hem. The shirt was left unbuttoned at the top and pulled off the shoulder in the same way Rihanna wears hers. Add a feminine touch with sparkly flats or heeled boots and you're good to go!
As always, the possibilities are endless. Take pictures of your favorite trends then head to Goodwill to find out how you can make them yourself. Sometimes it's as easy as buttoning a classic top a little differently or topping a vase with a tiny wooden sphere. Even if you don't have enough assets for or access to fab fads, that doesn't mean you can't make your own.