Right before winter starts, there's a natural inclination for a lot of us to start fluffing our nests for the long season ahead. Even if you live in a warm climate, now—before the craziness of the holidays hits—is still a great time to find some quick organization solutions and add a few inspiring touches to the room where you retreat at the end of the day. Since shopping at local Goodwills also means that you'll be supporting their programs, you're helping other people plan ahead as well. Goodwill organizations use forward-thinking family financial stability practices that allow program participants as well as employees and their families to access individual education and training, including debit management, budget and credit counseling, and educational workshops. Your dollars make that all possible! Here are some ways you can do good for your community and give your bedroom a boost at the same time: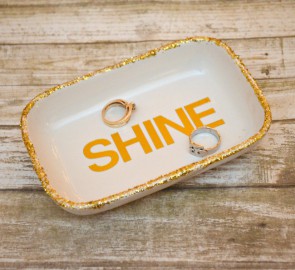 Image via oneartsymama.com
Bedside clutter is a thing for everyone, right? It's not just me? There are always little odds and ends on my nightstand that don't have a home and look messy just sitting there. Rings, my glasses, a stick of lip balm, and other little necessities contribute a sense of chaos even if the rest of the room is fairly neat. So, it's time for a solution! This glamorous little jewelry dish is exactly the thing! But it didn't always look so lovely. When Amy from the blog One Artsy Mama found the dish at her local Goodwill, it was pretty uninspired. Just a few minutes and some crafting supplies turned it into something customized and eye-catching. Now, what word or phrase should I stick onto my dish?

Image via designeverydayblog.com
When I saw this literary headboard on Goodwill Industries of Greater Cleveland and East Central Ohio, Inc. (Canton)'s Facebook page, I was blown away. Talk about bedside reading! For the book lover, could there really be any better bedroom decor? Much like a fireplace or a picture window with an incredible view, this DIY headboard would be an instant focal point for a very unique bedroom. Try gathering up additional copies of your favorite reads from your local Goodwill and hang them with the pages open to your favorite sections. Some books could show inspiring passages that perk you up first thing in the morning while others might be peaceful poems to quiet your thoughts at night. Since only the black and white of the pages show, they are neutral enough to match any decor! Click through to their Facebook page for more details.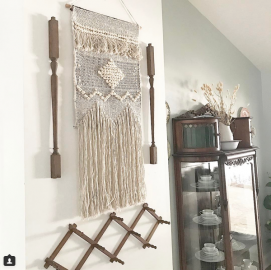 Image via instagram.com/countrylanedecor_andmore

So, we've got a solution for bedside clutter and a major facelift for your headboard, what can we do about those clothes that end up hanging around: the robes, sweaters, and other garments that inevitably pile up between laundry days? This hanging rack found at Goodwill Industries – Knoxville, Inc. is just the ticket. Its flexible and unassuming shape makes it versatile for odd spaces and many different decor styles. You could even hang it vertically to fill a slim wall for scarf, tie, bag, or belt organization. A quick coat of paint could allow it to tie into a colorful abode, but I think I'd leave it just like this for a rustic feel.
What would take the look of your bedroom up a notch? Before you get snowed in, swing by your local Goodwill to look for solutions to your clutter or lackluster decor problems. Then when the winter winds start to howl you'll have a cozy spot to spend your nights.