I've always prided myself on being thrifty, but sometimes it's a bit harder to fix the things I already have. Being handy takes a bit more effort, but it's also just as satisfying. Not having to hire a professional and making out-of-the-box solutions to household problems gives me a next-level feeling of accomplishment.
We all have those little projects around the house that aren't huge or all that hard, but fixing those minor annoyances can make a big difference in daily life. I had three little projects that needed addressing but always got put off. A headboard banging against a wall at the slightest touch, a kitchen trash can that was too far away to be convenient, and a scuffed wall that needed touching up.
First up, the headboard. It was a nice solid piece, but just the slightest touch, sitting on it, or rolling over in the night caused it to bang up against the bedroom wall so loudly it would wake the dead. I considered buying a new bed frame — too expensive. I considered sawing the top part off so it wasn't so tall and wouldn't hit the wall as badly — too complicated. Then I had a brilliant — and simple — idea.
I found two unused kitchen sponges and applied double-sided tape to one side of each of them. I put them behind and just below the top of the headboard, between it and the wall, and pressed firmly. VOILA! A little bit of padding to protect the wall and my last nerve. And it only cost about 60 cents!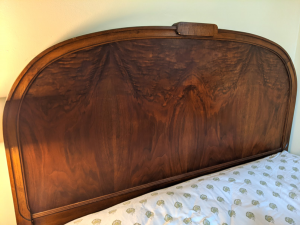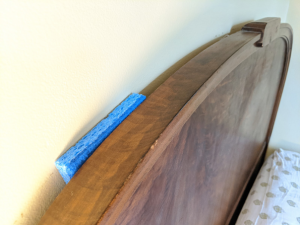 Next up — the trash can. Ever since we moved into our house, the tiny kitchen has proven a tricky place to work, store and effectively clean, especially when a lot of sticky, drippy paper towels are involved. The kitchen is so tiny, there's literally nowhere to put a trash can against a wall without it being in the way of something.
I thought about turning a vertical storage cabinet into a pull-out trash can cabinet. Even if I had the $60-$100 to spend on converting it properly, none of the ones I saw online would even come close to fitting. Unfortunately, the only cabinet I could possibly make that work in was only 7.5" wide. If I was going to get hardware to create a pull-out feature, none of the store kits were skinny enough to make it happen.
Then I had an idea. What if I stopped looking for trash cans that were tall and slim, and just started looking for containers that were tall and slim? Then I realized I already had an unused ultra-slim laundry basket that had wheels on it that would fit PERFECTLY.
So I found other places to store my cookie sheets and put a trash can bag into the laundry basket. VOILA! Now I have an in-cabinet trash can that no one will trip over, and it's conveniently located in the kitchen. No more dripping food across the kitchen floor to the dining room! I eliminated at least 10 steps per mealtime in one quick switch-out!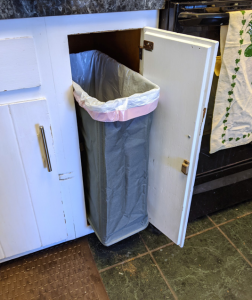 Then, I realized where the old trash can had been, the lid had scuffed the paint on the wall up beyond repair. Since square footage in a tiny house is at a premium, I thought maybe I could repaint it, but with a more utilitarian use in mind. I'd create a chalkboard space there for the kids to use, or for my ever-present grocery list!
Rather than buying matching paint to cover the scuffing, a tiny tub of chalkboard paint in the basement was the perfect answer. With a few coats, now we no longer have the ugly, marked-up wall — we have a useful surface for family messages!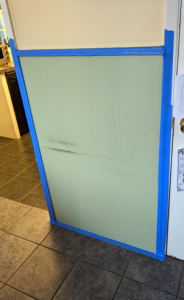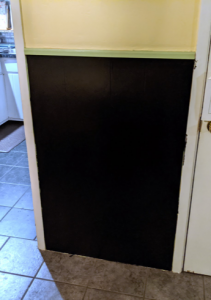 Gotta say, I'm pretty proud of the tiny upgrades I was able to make on the (SUPER) cheap. Just like shopping at Goodwill, the little things we do to make our lives better while helping the earth at the same time are a source of pride and principle. Being thrifty is more than just being conscious of our consumption, it's about using what we have in the best ways we can, too.
And that's what Goodwill does! They take donated items from us and turn them into a way to do the most good in our communities. Through job training, Goodwill helps people make the most of their skills by connecting them with opportunities to make a difference for themselves and the world around them. Now that's pretty handy!