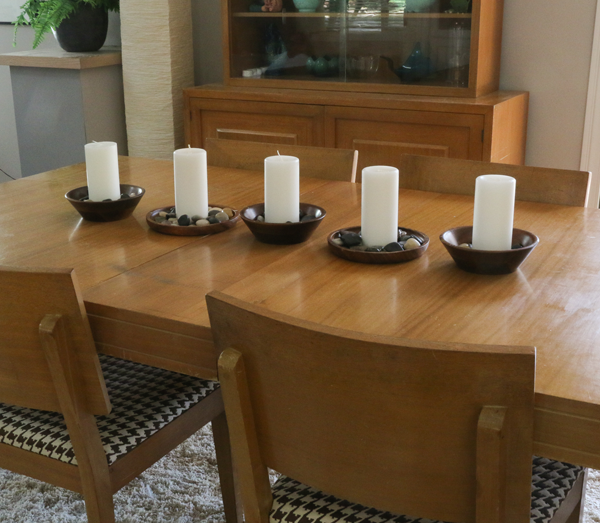 As we snuggle into fall, we'll be spending more time inside rather than out in the yard.  For me, it's a little early for holiday decorating, but a few fresh decorating elements are most definitely needed.  I've always been a big fan of those long, narrow trays that run down the center of a table with multiple, same height pillar candles evenly spaced.  However, the price tags on those long, Asian inspired candle bases can be hefty.  Luckily, I keep supplies on hand. My basement is like a less organized mini-Goodwill® store.  I went down there to look through some of my collected goodies I routinely purchase for future projects.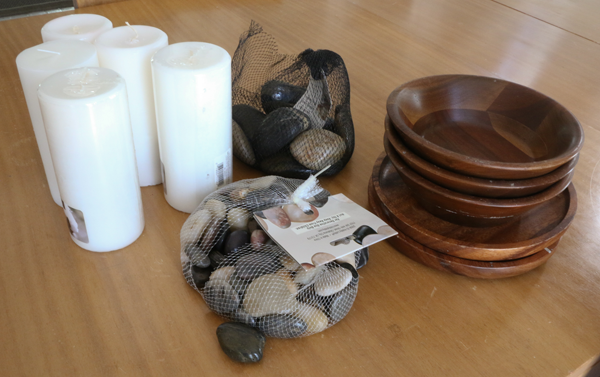 I pulled out some spectacular walnut bowls, two teak plates and a shallow wooden box. No doubt, I couldn't resist the 99-cent price tags on the round pieces, and $2.99 for the square box.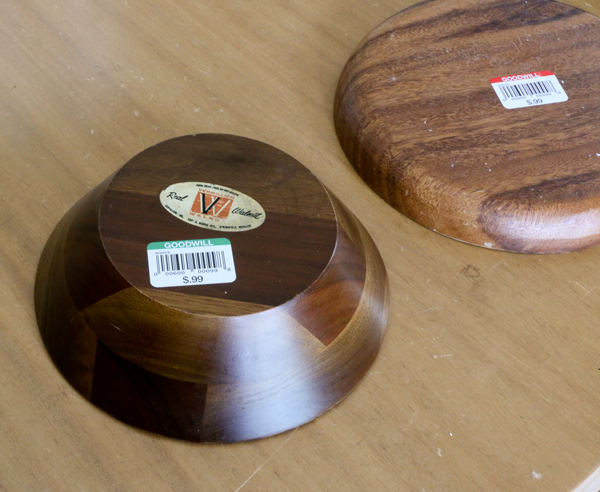 In another area of my basement 'craft supplies,' I found a few bags of smooth river rocks. All I needed to purchase for this project were some new pillar candles to create this easy, budget-friendly, natural and minimalistic wood and rock candle tablescape.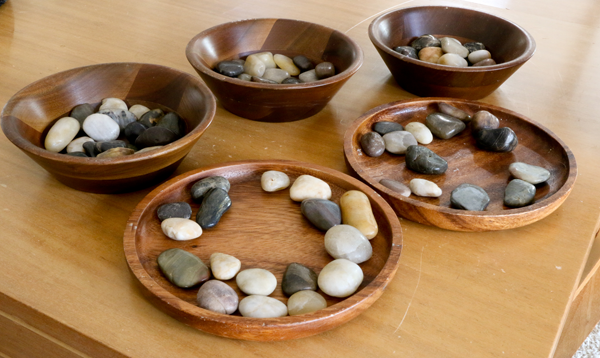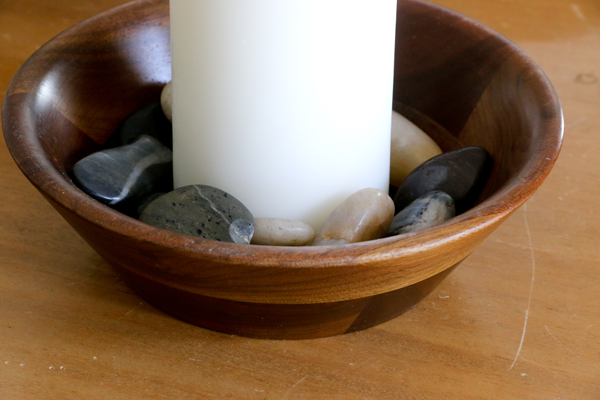 One of the aisles I always check out is the one with all of the wooden household items. If I find unusual bowls, trays or plates, I always put them in my cart for use at a later date.
Here's what I used:
Three Walnut Bowls (99 cents each)
Three Teak plates with lipped edge (99 cents each)
One bag of smooth multicolored river rocks (in my craft stash)
Five white 9" pillar candles ($4.49 each)
As we move closer to other fall holidays, you could easily add uniformly sized pumpkins in between each candle. You maintain the simplicity while integrating  a more specific holiday theme.
Another option is to use a different sized wooden plate or tray and group the candled to form a multi-height  candle arrangement.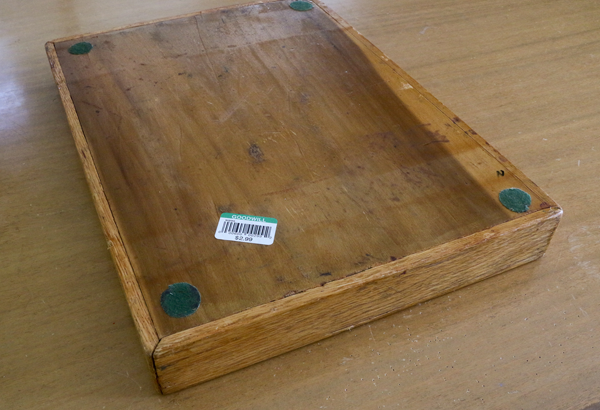 Not only does it feel so right, but I really enjoy shopping at Goodwill Stores where I walk in and get so excited to see what's new, and what's possible to make out of others' donated items. It's the epitome of responsible RECYCLING since 82% of collective revenues raised through the sale of donated goods go directly toward supporting and growing Goodwill's critical community-based programs and services and result in environmental and social impact.