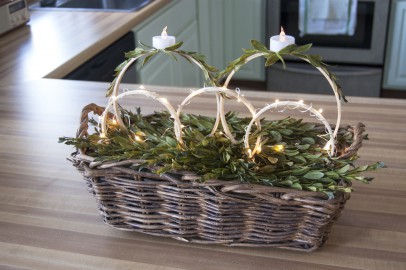 When it comes to end-of-the-year decor, I have always loved the clean, bright combination of snowy whites, festive greens, and earthy browns. This color scheme somehow looks both traditional and contemporary so I can see it gracing any home now that the holiday season is upon us. This year, I decided a cozy addition to my December decor scheme would be a centerpiece using these colors and, of course, plenty of thrifty goodness.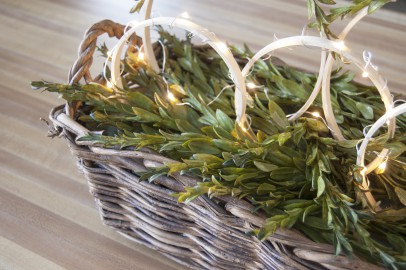 Looking at the finished product, I can't help but notice a Saint Lucia's Day vibe that warms me right up. If you like this style, too, read on to find out how you can make your own embroidery hoop centerpiece. Spoiler alert: It starts with a trip to Goodwill! Since every time I donate to or shop at Goodwill, I help someone find a job, strengthen my community and preserve the planet, it's always the first place I start. Now, go grab these goodies and let's get crafty!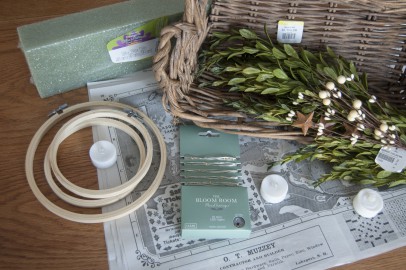 Materials
Thrifted basket or long box
Thrifted embroidery hoops (I used two medium and three small hoops)
Styrofoam or floral foam block that fits inside the basket
Faux greenery (evergreen boughs, holly, or boxwood look lovely)
2 faux LED tea lights
LED dewdrop light string
Newspaper and green felt or green tissue paper
Hot glue gun
Hot glue
Scissors
Small metal spoon or butter knife
Wire cutters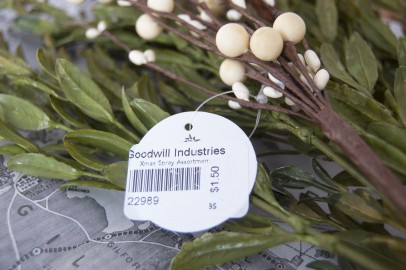 * Note: Many of these supplies including newspaper and floral foam are highly flammable so I do not recommend using real candles on or directly next to this centerpiece.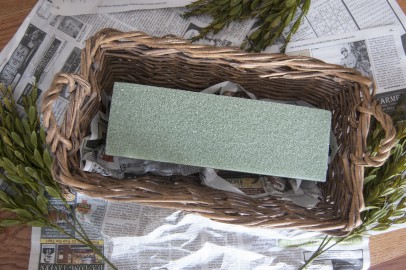 Step 1: Fit the foam block in the center of the basket and add crumpled paper under and around it for support if necessary. Really squash it down to make sure the base of your structure is solid. If your basket's weave is wider, you'll probably want to stick with green tissue as it will show through. Since my weave was fairly tight, I could reuse a little scrap newspaper for mine and later top it with green felt for camouflage.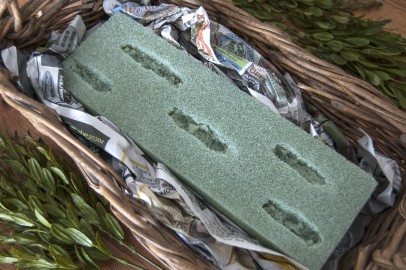 Step 2: Separate each embroidery hoop then arrange single hoops atop the foam pressing each one down to create a divot in the block. I didn't want any of the metal tightening mechanisms to show, so I cut the trenches a little deeper where necessary to hide those deep in the foam. Set the hoops aside (don't forget which sizes go where!). Using a butter knife or spoon and scissors, cut out a small channel where each of the divots are for the hoops to rest inside. I kept my vacuum nearby to suck up the Styrofoam dust as I worked just so it didn't get everywhere.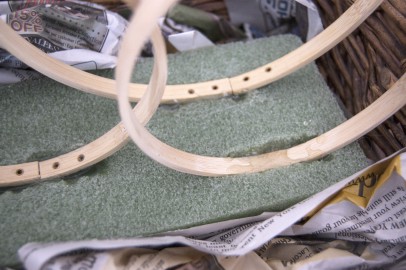 Step 3: One at a time, starting at the back of the display, hot glue each hoop into place in their little trenches. I added a significant amount of glue and let each hoop dry for a few minutes before moving on to the next so I didn't accidentally knock one over before the glue set.
Step 4: Dab a little bit of hot glue on the top of any hoops you're adding tealights to then place the tealight on top. Make sure you have the on/off switch hanging over the side of the hoop so you can access it easily. You can also glue little twigs of greenery on the hoops if you'd like. Use wire cutters to trim smaller pieces from the larger sprays if you want to do this.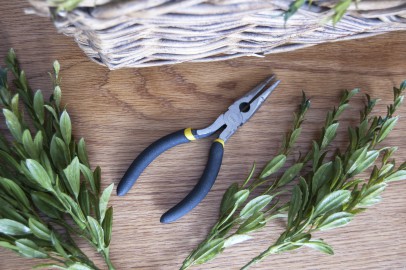 Step 5: Cut green felt into strips and pieces that will cover the top of the newspaper. Use small drops of glue to keep them in place.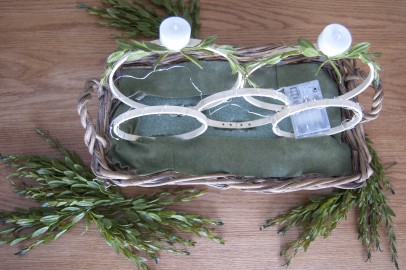 Step 6: Wind your light string amongst the decor and rest the battery box in a place you'll be able to easily access, but will still be easy to cover with the greenery.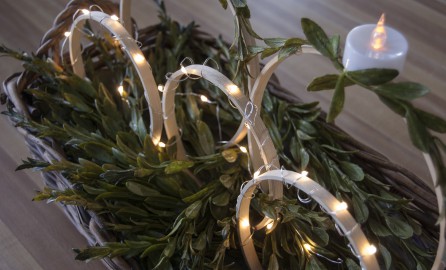 Step 7: Arrange the greenery to cover up the felt, foam, and string light's battery box. Glue the branches lightly in place, but make sure you can still access the battery box.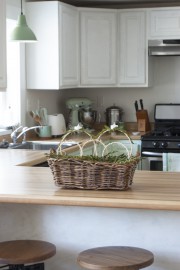 And just like that you've got a fancy little centerpiece to brighten up your dining table or countertop. I love the warm glow of this on these cold, dark nights. It's no wonder that candles and lights are central to so many different holiday celebrations: Saint Lucia's Day, Christmas, Hanukkah, Kwanzaa. No matter how or what you celebrate this season, I wish you all the best.