By Felicia Czochanski
If you get to know me, it's no surprise to discover that I love all things books. My apartment is full with shelves and stacks of them. I always have one in my bag, and another on my nightstand. I read almost 100 books a year! Since reading is usually such a solitary activity, I got so lucky to find a fiancé who reads just as much as me.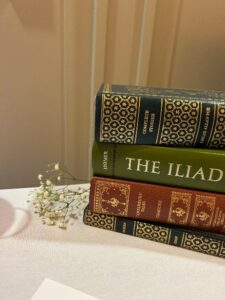 Because of this, we had the best theme for my bridal shower. You guessed it – books! But not just any books. The tables featured centerpieces that had lovely antique and vintage books with spines that showcased intricate gold letterpress designs and letters. All stacked together, the books added the prettiest pops of color to the otherwise white tables.
I love this centerpiece idea for so many reasons. In fact, I love it so much that I'll be replicating it at home to upgrade my Valentine's Day tablescape this year. It's something my fiancé and I will both appreciate because of our shared passion for books, but this could work for anyone if you're going for more of a 'tale as old as time' Beauty and the Beast atmosphere for your Valentine's Day dinner.
To recreate these centerpieces, the first thing you'll want to do is pull together a list of your favorite Goodwill stores that have a good book selection. All of the books you see in the pictures were sourced second-hand! This makes the DIY centerpiece a cost-effective way to pretty up your table, it also makes it fun to shop for them too. One thing to think about as your shopping, is that you'll want to take the book jacket off the books for the centerpiece. So while you're in the store, even if you find a book that's perfect for the romance theme, make sure its spine has the look that you're going for.
Shopping for books second-hand is not only going to benefit your wallet, but also the environment. Each year, Goodwill diverts close to 4 billion pounds of used goods from landfills by selling them in their stores across North America. Knowing books can be heavy and a decent contributor to this waste weight, it's eco-friendly to thrift the books you're looking for. In this case, if you're on the hunt for more antique-looking books, they'll be more readily available and cheaper than if you were to search for them at retail price.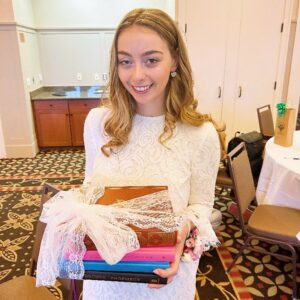 Once you've sourced your books, you'll want to think about the rest of your tablescape. A simple piece of lace wrapped around the book stack and tied with a bow makes the atmosphere even more romantic. Think about adding some flowers and Valentine's Day chocolates and you'll have created something special. You might even be able to find vintage lace at Goodwill too!
This DIY centerpiece is so easy to pull together, but it makes all the difference. Upgrade your usual dinner routine for Valentine's Day with just a few carefully sourced materials from Goodwill. And don't forget to tag us @goodwillintl to show us your masterpiece too!