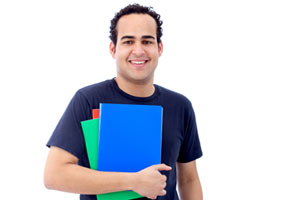 February is National Financial Aid Awareness Month and we want to make sure every student benefits from the many financial aid rewards, scholarships and free services available to save on education.
According to U.S. Department of Education statistics, the cost of college tuition is five times more expensive than it was 30 years ago — making it increasingly important to take advantage of programs that can help you pay for college and advance your career.
File Your Free Application for Federal Student Aid (FAFSA)
The U.S. Federal Student Aid Office offers many opportunities to make education more accessible and affordable for Americans.
Federal Pell Grants provide aid to low- and middle-income undergraduate students and do not need to be repaid.
The Direct Loan Program lends money to students directly for undergraduate and graduate studies and can be subsidized or unsubsidized, depending on your financial situation.
PLUS Loans help parents pay for their child's education expenses incurred in undergraduate or graduate programs.
Filling out the FAFSA can be a complicated process but there are many resources available to help you apply.  The College Preparation Checklist can keep you informed on all the opportunities available, and the FAFSA4caster can show what federal aid you are eligible for.   FAFSA also provides directions to help you understand your filing options when you find the program that's right for you.  Make sure to check all FAFSA deadlines here before you apply, since the earlier you submit an application, the better!
Take Advantage of Tax Credits for Education
If you are saving for or paying education costs for yourself or someone in your family, make sure to claim valuable tax credits to get money back that you deserve.  The American Opportunity Tax Credit allows taxpayers to claim up to $2,500 for qualified education expenses for each eligible student.  The Lifetime Learning Credit is also available (up to $2,000), and there is no limit for the number of years the credit can be claimed.
Get more information on tax credits for education. »
Make the Most of Freebies to Finance Your Education Expenses
To cut down on education expenses and save some cash, check out these free services to help you become a cost-savvy student: