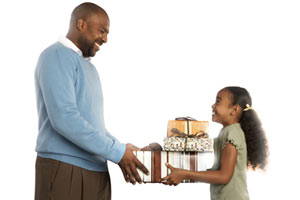 The holidays are upon us again – store shelves are stocked, holiday tunes are playing and malls are full of shoppers in search of something special.
It can be an expensive time of year. Americans spend around $700 during the holiday season on purchases such as gifts, meals, decorations and postage. That's money you may not have available in your monthly budget.
To get the most out of your holidays, we offer you some advice to help curb your holiday spending without sacrificing the spirit of giving.
Make a Budget and Check It Twice: Making a

holiday budget

before the holidays begin will help you clarify your spending capabilities and give you a clearer picture of what you can afford.  Create a list of loved ones, brainstorm a few gift ideas, and write down a maximum spending amount for each person.
Use Online Discounts: Online shopping sites such as FatWallet.com help you save money and, in some cases, give you cash back.  Other sites like Bing shopping from Microsoft offer shopping rebates. The Bargainist makes it easy to follow the sales by tracking where the deals are in retail stores, and comparison shopping sites such as PriceGrabber.com and

Bizrate.com

can help you search for an item and compare across different stores and brands.
Find Bargains on Black Friday: Black Friday – the day after Thanksgiving – is a hectic day when stores offer bargains to kick off the holiday shopping season. To prepare, visit the web sites of your favorite stores and research what sales to expect. There are also

web sites

listing holiday sale circulars so you can strategize your day of shopping. Your local newspaper will usually include Black Friday ads as well.
Key in to Cyber Monday: A more recent phenomenon is

Cyber Monday

, when you can find some of the best deals online the Monday after Thanksgiving. Not only will you save on gas, but you can avoid the crowds of shoppers and save in the convenience of your home.
Gift a Daily Deal: Social buying sites like Groupon and

LivingSocial

offer discounts up to 90 percent at local stores, restaurants and events in your community.  You can sign up and customize your preferences to receive deals that can translate into great holiday gifts for family and friends.
Shop at Second-Hand and Consignment Stores

: Second-hand stores

, such as Goodwill, offer book collections, housewares, clothes, furniture, toys and more that can suit the needs of even your pickiest recipients. Plus, when you shop at Goodwill, you double your benefits. Since the money you spend helps fund

job training and career development programs

for community members in need,

you're giving to more than just the loved ones on your list.
Give the Gift of Giving: By purchasing gift cards through web sites like

GlobalGiving

or

JustGive

,

you can empower loved ones to give back to a cause they care about.  You can buy a gift card for as little as $10 and provide someone the opportunity to make a difference during the holiday season.
Volunteer:

Volunteering

is a great way to spend quality time with family and give back to your community.  Not only will you feel good, but you can also spread holiday cheer and make a positive impact on someone's life.
How do you save during the holidays?
Have suggestions for making the holidays special without spending too much? Tell us your tips for stretching your dollars this season in the comments section below.