The holiday season will be a little more special for one Florida family. Thanks to Goodwill Manasota and Florida Power & Light (FPL), the Landis family's home has been transformed into a winter wonderland at no cost to them, complete with more than 1,000 energy-efficient lights, a Santa Claus figure, stocking and present props, and even a palm tree!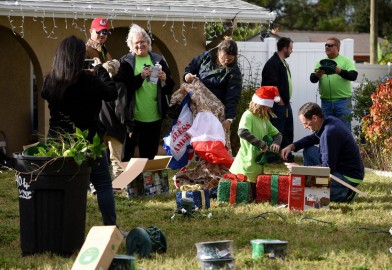 (Photo credits: Bradenton Herald and FOX 13 News Tampa Bay)
This is a part of a holiday initiative at FPL that thanks one local veteran for his or her service each year. Chris Landis served in the U.S. Army for nearly a decade and has dedicated his time following service to helping other veterans in his community. FPL worked with Goodwill Manasota to select Chris as this year's honoree and makeover recipient. Margie Center, vice president of mission services at Goodwill Manasota, nominated Chris. She says that he absolutely was the perfect candidate.
Chris conducted heavy research on veterans with post-traumatic stress disorder (PTSD) as part of his master's degree program. He then worked with the local Veterans Treatment Court to help veterans going through the justice system. While employed at Goodwill Manasota, he supported the Homeless Veteran Reintegration Program (HVRP) and Incarcerated Veterans Treatment Program (IVTP). Most recently, the 36-year-old veteran began working at Goodwill Industries International as an adult reentry services senior specialist.
According to Margie, Chris has made a tremendous difference in the lives of Florida's veteran community, reaching former service members who would have otherwise been disconnected from services and support.
"I just wasn't expecting it," Chris said. "I'm usually involved in doing this for other people, and it's nice but it's different because I'm usually on the giving end."
To add some extra holiday cheer, the family also received $1,500 in gift cards, children's toys and energy-efficient electronics for their home.
Congratulations and Happy Holidays, Chris and Landis family!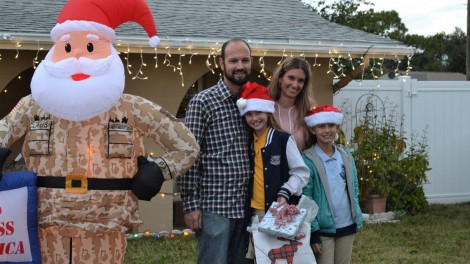 (Photo credit: Bradenton Herald)