I know a lot of families whose lives seem to revolve around Disney. They're always counting down to their next Magic Kingdom trip or sharing photos from their last. On weekends, days blend one into the next through a stream of themed movies, board games and dolls. It seems like one family member or another is always repping the magical brand on their clothing and you're not surprised at all when they trick-or-treat as characters from Frozen. For some people, Disney is a way of life. Today we'll be sharing some of the thriftiest Disney adventures we can find!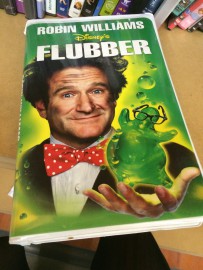 Image via goodwillomaha.org
Since Disney is holding out for the release of their own streaming services, their selection on platforms like Netflix and Hulu is slim. Some may feel that old-school hardcopies of videos are going the way of the buffalo, but I still like to have a few of the classics around my house for when the power goes out (yay laptops!), WiFi isn't working well, or I just want to watch that one old favorite that isn't currently available online. That's why this Throwback Movie Night concept shared by Goodwill Industries, Inc., Serving Eastern Nebraska & Southwest Iowa (Omaha) is so appealing to me! As they point out in their blog post, Goodwill's selection of movies is getting updated every day making it easy for you to build up your collection and plan special family movie nights. For a quick dose of nostalgia, check out some of the Disney gems they found in one of their stores!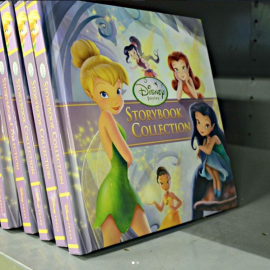 Image via instagram.com/goodwillar
But the TV has to go off sometime, of course. Disney is all about creating magic in the minds and hearts of kids and grown-ups alike, right? That isn't limited only to on-screen magic. Sitting down to watch movies can be a fun way to spend Friday night and bring comfort on sick days, but I think Mickey Mouse himself might cringe at the thought of his little friends squatting in front of the TV all weekend. So, Disney-lovers, don't forget to check the other sections of your local Goodwill store, too! Goodwill Industries of Arkansas, Inc. (Little Rock) posted some Disney Fairy storybooks on their Instagram page that I would have loved as a little one! Don't they look so charming? I can't think of a better way to get kids interested in reading than to bring home books about their most beloved Disney characters. Click through to see more Goodwill objects and objectives in their feed!
Video via video.disney.com
Ready to make a little magic of your own? I was poking around on Disney's website reading this article about why you should donate old baby clothes to Goodwill when, as only the internet can, one webpage led me to another and I ended up watching this darling DIY Minnie Pants video! Make these on your next rainy afternoon and you'll be living your best Disney life even if you can't make it to the theme park any time soon. They're the perfect way to give thrifted jeans a revamp—the embellishments could even cover up holes or stains to further extend the life of donated goods. Goodwill has a rich history since its beginnings in 1902 and it holds itself accountable to a triple bottom line of people, planet and profit. You can really see that with a DIY like this. All at once you'd be saving pants from the landfill, contributing to the success of individuals in your community, and making a little magic happen!
Have you scored any unusual Disney finds while out thrifting? The magic of Goodwill is that nothing is ever out of season. You could stumble upon anything from a rare 1950s Tomorrowland poster to a 1990s Princess Jasmine Pez dispenser! One thing that both Disney and Goodwill have in common: when you're there, anything seems possible.