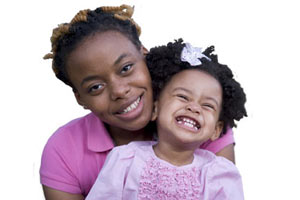 Balancing a career, family and finances is one of the biggest challenges facing single mothers today. According to the National Women's Law Center, the average annual unemployment rate for single mothers during 2010 was 12.3 percent, the highest rate ever recorded for this group.
As single mothers look to find jobs and support their children, we can offer a range of services to help families achieve economic self-sufficiency.
Goodwill Supports Mothers and Strengthens Families
Goodwill helps many single mothers across the country attain their employment goals. Claudia Van De Ven, a U.S. immigrant, received career training to achieve her childhood dream of becoming a nurse.
"Now, I am confident, I believe in myself, and I can offer a good life to my children," she says. "They are proud of mommy and they want to be nurses too. My life has truly changed. Goodwill provided many blessings to my family."
Recently, Goodwill Industries International teamed up with the Walmart Foundation to launch the Beyond Jobs program. The initiative provides single mothers with tools they need to find employment, succeed in the workplace and most importantly, support their families. Not only will single mothers receive job training and career assistance, but they will also have access to financial education, transportation planning, child care assistance, nutrition programs and more.
Learn More About Beyond Jobs »
Tips for Success as a Single Mother
Are you a single mother trying to balance your life and provide for your family? Check out these tips from,Goodwill Beyond Jobs program staff:
Contact your local Goodwill to learn more about programs and services in your community that support single mothers and their families.