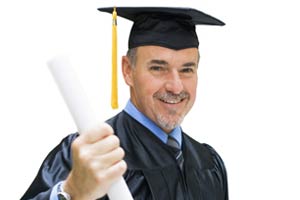 Last year, I started a new chapter in my life — graduate school.  It's no surprise that higher levels of education correlate to better jobs and better pay. What's a little less known are the growing number of educational options available for non-traditional students (e.g. adult learners).
Whether you want to earn a GED or obtain an advanced degree, educational institutes and companies across the country offer the means to advance your education and career prospects.
GED Diploma
If you did not complete high school, then a General Education Development (GED) diploma is a great opportunity to advance your career. Why? The majority of all jobs require a minimum of either a high school or GED diploma. Getting there means passing the GED test, and passing that test means practice and study. Luckily, several web sites offer practice tests and sample questions to help you prepare.
Associate's Degree
A traditional associate's degree takes about two years to complete, making it a cost effective option that can be earned in a wide range of fields. Additionally, you may be able to apply your associate's credits to earn a bachelor's degree.
Career Builder highlights eight in-demand associate's degrees with good job growth and promising career advancement:
New Options Mean You're Never Too Busy
With crazy work schedules and families, it is easy to feel as if you have no time for school.  Education is now more flexible than ever.  Whether it is through your community college that offers evening classes or online schools that allow you to learn at your own pace, education is becoming more accessible for any schedule.
Regardless of your educational pursuits, going back to school is a great way to realize your hopes of a better job and brighter tomorrow.  Explore your options today.