Two years ago, Jonathan Tingley, moved back home. But unlike some "boomeranging" millennials, Jonathan needs constant care because he has disabilities including autism. His mother, Nancy Moore, didn't want him sitting at home watching TV all day; she has dreams for her son to become more independent. That's when she connected with LifeWorks, Goodwill®'s program for adults with disabilities.
LifeWorks has programs in Lewiston, South Portland (including a specialized program for people who are deaf), Augusta and Waterville, Maine. Participants get out in the community daily with loads of activities, including bowling, snowshoeing, shopping, volunteering, working paying jobs and more. Jonathan goes to the Waterville LifeWorks five days a week.
"LifeWorks is so good for him. There's so much that's not 'normal' about raising a kid with a disability. This is something with a focus and routine he can do every day. It gives him a sense of independence and it's good for his growth and who he will become," Nancy said.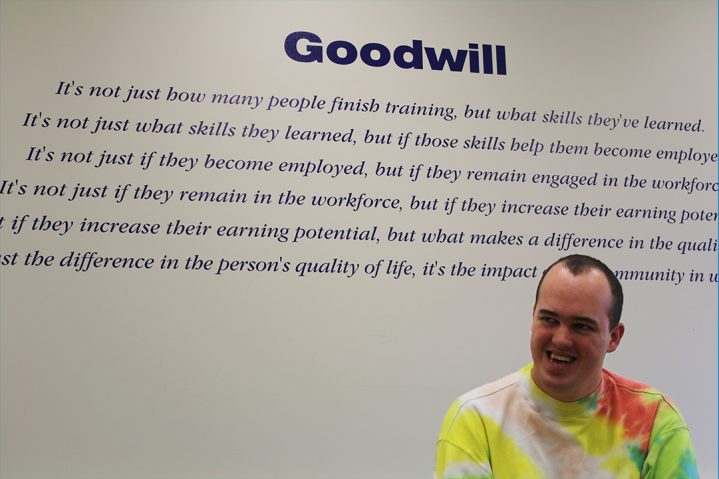 Nancy chose to move Jonathan from a group home to her own home two years ago. She went from being a nurse to a full-time mom. Enrolling Jonathan in LifeWorks, which is paid for by the State of Maine, lets Nancy take a much-needed rest from her caretaking duties.
"When I was working as a nurse, it was 40 hours a week. Now it's 24-7-365. It's a tough row to hoe to be a caregiver at all times. You need to fill your own cup so you can fill theirs," she said. "Him being at LifeWorks gives me time for self care. I kayak, ride my bike, I do the things I need to do."
Moving is especially important for Nancy who used to weigh 374 pounds. She is now a healthier weight and maintains that by exercising while Jonathan is at LifeWorks.
"If you don't care for you, you can't care for anyone," Nancy said.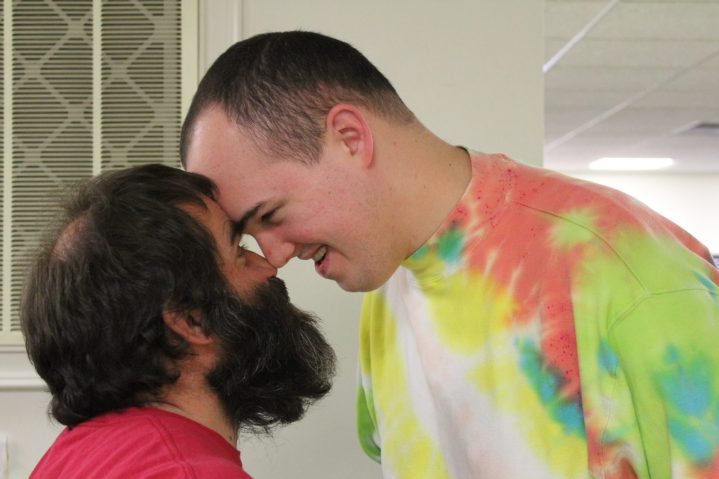 For their family, LifeWorks has helped Jonathan continue on a path toward more independence in other ways too. For instance, Nancy used to need to drive him to the program and walk him to the door, but now that they have practiced enough, a driver comes to pick Jonathan up and drop him off right from his front door. He makes his own peanut butter toast (his favorite) and has made friends in LifeWorks.
"He has a friend and they sit across from each other and make noises – they have a whole conversation," Nancy said. "He loves it. He's so happy there. He comes home giggling most days."
Jonathan has a special bond with one Goodwill direct support professional, Kevin. On a recent Friday, the two were forehead-to-forehead making "owl eyes" at each other while Kevin asked him about his love of pizza. Jonathan smiled and rolled his head gleefully.
"The staff really care. They give a damn and it's important to have that connection," Nancy said.
If you're a caregiver who would like to enroll someone in LifeWorks, email [email protected] or visit goodwillnne.org/support-services for more information.
NOTE: As originally posted on Goodwill Northern New England.