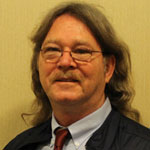 My daughter is Jennifer McGrath. She's 26, and she is a beautiful girl. Jennifer has been diagnosed with Tourette syndrome and Obsessive Compulsive Disorder (OCD). She also has been diagnosed as having a mild intellectual disability.
Since she was eight years old, she's been living with me, and I've been a single parent taking care of her. Her Tourette's got worse after she turned eight. When she was 12 and 16, it became very intense. We had to go to a psychiatrist and get various medicines. She's been put on about thirty different psych meds since she's been eight years old.
I didn't know anything about Goodwill of Central Virginia until my case manager from Henrico County told me that there was an opening. When Jennifer got there, she really didn't know how to do any type of skilled labor. After about a month or two with her job coach training her, she was ready to actually be hanging, pulling and checking the clothes.
Within another two months, they took her and put her in the store on Hull Street, where she also had a job coach. She worked there for about a year. Then, they opened a new store and gave Jennifer the opportunity to come to the new store.
Since then, she's gone from 50 percent output to now 100 percent, where she's actually doing exactly what the job requires. To see my daughter working at Goodwill has been like a miracle, because I didn't expect that she would be able to come so far, so fast, and do such skilled labor.
She's so proud of working there. Every year, we get a letter from the CEO of Goodwill. She gets a card for her anniversary. I've got them up on the fireplace. She's got three of them up there. She's very happy.
Without Goodwill, I think Jennifer would be in adult day care or in an enclave where she would not be as happy as she is at Goodwill.
Jennifer really wants to move out in the front of the store and be a cashier. I hope in the future she can get to that level.
I think Goodwill is the best part of her life because she looks forward to going to work every day.
Hear more stories like Jennifer's.