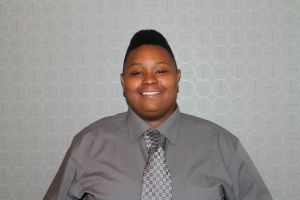 When I came to Goodwill Industries of Central Texas (Lufkin), I didn't have a home.  I had custody of my nephew.  I was unemployed for over a year.  The work that I was getting lasted for a week then it was over with. I had nothing, and I was really down on my luck. When I came to Goodwill, they opened their arms to me and said, come on, we'll show you how to do this and once they showed me how to do it, they were like, we're going to give you an opportunity to do this, okay?
When you're on welfare, you have to go to the workforce solutions department and they make you work for the assistance that you are given.  You can do community service, you can do volunteer work.  Fortunately, Goodwill partnered with workforce solutions, letting workforce solutions workers come in and get on the job training.
Through Goodwill, I was able to start [working] in the e-commerce department.  A month later I became the leader in that department which was about to go from a $1,500 revenue to a $7,000 revenue within one month.  By December 2013, we hit our first $10,000.  In January 2014 I was hired on as the e-commerce manager.  That year, we hit astronomical numbers.  We yielded a 470 percent increase in revenue which got me a raise and enabled me to get my own house. It also enabled me to get my own car and to get off food stamps, so it changed my life.
For me, Goodwill is the opportunity to have a second chance in life.  It's the opportunity to get a fresh start.  If you are having problems in your life, it's an opportunity to come in and get help, get counseling because they offer all these programs that help people in the local community no matter what you're having problems with.
If you need clothes, come to Goodwill.  You can get a voucher for some clothes to put [on] your back, even your children's back.  They have programs to help you manage your money and learn how to have financial stability.  I mean anything that you need in your life, Goodwill offers it as anopportunity for you to get back up on your feet.