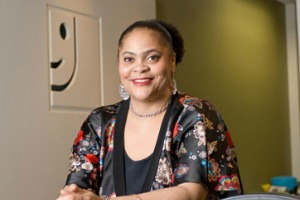 Sixteen years ago, I was a professional vocalist on my way to landing a recording contract. However, my life took a dramatic turn when I was rear-ended by a drunk driver. The near-fatal wreck left me paralyzed from the waist down. I spent months in the hospital healing and learning how to walk again. I came out walking, but was left with permanent paralysis to the limbs on my right side.
I was ready to go back to work, but knew I would need some extra help because of my new circumstances. Research led me to Goodwill of North Georgia (Atlanta)'s former OfficeTECH program. I got training on software packages, word processing, proofreading, customer service and more.
After completing the program, I went to transitional employment working as a part-time file clerk and front desk relief for Goodwill. When the transitional employment phase was over, I secured a job as a phone operator for a telecommunications company. After working for the telecommunications company for about two years, I received a call from a Goodwill VP who offered me a job as the agency's switchboard operator/receptionist. I immediately turned in the proper notice to my employer!
At Goodwill, I have the opportunity to help people. What's even better is that I can actually meet the people in person. I am proud that they refer to me as the "Voice of Goodwill." It is my pleasure to answer the questions of the people who call Goodwill. I love my job because I can honestly say I work for a company that makes a positive impact on the lives of people just like me.
I have worked at Goodwill since 1996, and have been sharing my Goodwill testimony ever since. I share it at Goodwill graduations, in the break room while having lunch with buddies and on the phone with people who ask about the organization's services. Goodwill impacted my life, and I share my story because I want everyone to know that Goodwill helps people.