By Katherine Michaud Smith, Creative Services Program Manager, Goodwill Industries International
When Hurricane Laura hit southwestern Louisiana six weeks ago, it left countless damaged roofs its wake. Goodwill of Acadiana led the charge to collect tarps for distribution to their neighbors who were hit hard by the storm, which would serve as temporary coverings until the roofs could be repaired. Now, after Hurricane Delta made landfall on October 9 and battered homes in Acadia, Vermilion and Lafayette parishes, among others, the Goodwill is again collecting tarps to help those affected.
In addition to collecting tarp donations from the network of Goodwill organizations across the United States and Canada, the Goodwill is urging community members who can to donate tarps, which will be given to Catholic Charities for distribution to those in need.
"A lot of people have insurance and don't need our help," Deacon Ed Boustany, president and CEO of Goodwill of Acadiana, told The Acadiana Advocate. "We are helping the elderly and those without assistance, with no neighbors to help them. We are becoming their neighbors."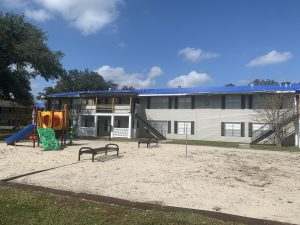 Individuals in Louisiana can purchase tarps at the following locations:
Brasseaux's Hardware (Maurice and Abbevile)
Shannon Hardware (Broussard)
Breaux Bridge Hardware
Lowes
Home Depot
Stine
There may be additional stores with tarps available. Call or stop by a store near you for details. New tarps can be donated at any Goodwill of Acadiana location.
Individuals who are interested in donating to this cause can also visit Catholic Charities of Acadiana for an Amazon link to purchase tarps that will drop ship directly to Catholic Charities.