For most of his career, Dale Garcia proudly worked in the transportation industry until a severe injury left him out of work for more than two years. "I worried about how I would provide for myself," said Dale. And the long gap in employment made finding another job difficult. "In the transportation field if you're not driving for over a year, companies won't hire you."
Things began to improve for Dale when a counselor suggested he look into Goodwill of Olympics and Rainier Region's Warehouse, Transportation and Logistics Program.
From the first day, Dale knew what he wanted for his future. "My plan was to take this class, graduate and get a job with Goodwill," said Dale. To make his dream come true, Dale needed to gain the skills required to re-enter the workforce.
In addition to the vocational competencies taught in the class, the program also provided him with much needed work habit and employment placement skills. Armed with the motivation to succeed and with the help of his instructors, Dale graduated from the 10-week program in July. A week later, he interviewed with Goodwill and soon received the offer he had long hoped for – a position as a Goodwill truck driver.
Dale is thankful he found a job that combines his passion for driving trucks and helping others. "It allows me to exemplify my humanitarianism so when I go out to each Goodwill store, I get to meet the managers and customers, and provide quality customer service. I'm not only a distributor but also a contributor," Dale reflected. Seeing his accomplishment come full circle has had a lasting effect on Dale.
Seeing his accomplishment come full circle has had a lasting effect on Dale.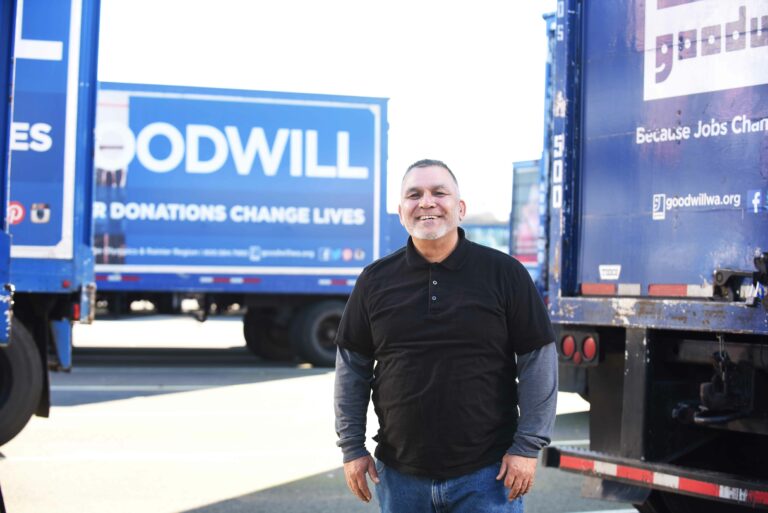 "I'm so inspired that I want to inspire others, so they feel the excitement that Goodwill really does change lives." says Dale.
Note: As originally posted on Goodwill of Olympics and Rainier Region.